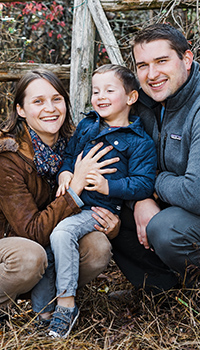 Linnea Peckham Geno '13 and Alec Geno '13
Co-owners
Sylvan Ridge Farm
Wheaton majors in English Literature (Linnea), English and Philosophy (Alec)
Currently live in Milford, PA
"Embarking on our small business venture has been an education all its own, and we have Wheaton to thank for preparing us."
During their college years, if you'd told English majors Linnea Peckham Geno '13 and Alec Geno '13 that they would someday own an event venue in Pennsylvania's Pocono Mountains, they wouldn't have believed you.
But only seven years after graduation the Genos are restoring a historic barn with the goal of opening a business, Sylvan Ridge Farm, in early fall.
"It was—and is—daunting to embark on such a major project without property development experience, but Wheaton's liberal arts education really did equip us to pick up the skills we needed as we went," Linnea says.
The couple's shared love of adventure was evident from their very first date. "We met during the Wheaton in England study abroad program," Alec says. "Our first date was punting—pushing a boat with a pole—on the River Cherwell in Oxford."
Two weeks after they married, they moved overseas and spent a year in New Zealand, where they worked in hospitality and event management at two different Christian camps. Later, in Leuven, Belgium Alec earned an M.A. and M.Phil. in continental philosophy, while Linnea taught English Literature online. They also had a son, Everett.
"At the time, our jobs felt like random ways to support ourselves, but it turns out they were extremely applicable to careers in venue management," Linnea says.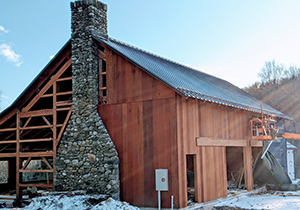 When it was time to head back stateside, a 30-acre property came up for sale near Linnea's childhood home in rural Pennsylvania, an area the Genos loved. They purchased the property, which included a farmhouse, cottage, and barn dating to the 1800s.
"Our decision to turn the farm into a venue was driven by our business planning," Linnea says. "The area had a need for it, the property lent itself to that use, the financial analysis made sense."
Almost three years after the purchase, the Genos are putting the finishing touches on everything from the timber frame barn to their website.
"They say a liberal arts education teaches you to learn, and we could not have found that to be more true," Linnea says. "Embarking on this small business venture has been an education all its own, and we have Wheaton to thank for preparing us for it."—Hannah Frankl