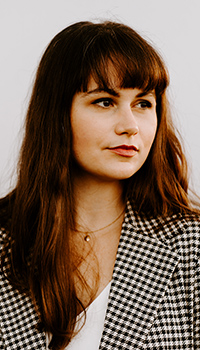 Ciera Horton McElroy '17
Full-Time Writer and Communications Consultant
Wheaton major in English and a Writing Concentration
Currently lives in Orlando, FL
"My time at Wheaton showed me the beauty of an English degree--and provided a community of writers and readers."
At the age of 24, Ciera Horton McElroy '17 has already served as a communications director for two Affirm Films campaigns with Sony Pictures Entertainment—the faith campaign for A BEAUTIFUL DAY IN THE NEIGHBORHOOD (2019) and PAUL, APOSTLE OF CHRIST (2017). Two years after graduating from Wheaton, she completed an M.F.A. in Creative Writing at the University of Central Florida, where she also finalized a short story collection and a novel—the latter of which she began in Wheaton Professor Nicole Mazzarella's longform fiction class. Her literary agent is currently shopping the book, tentatively titled Nuclear Family, to New York publishers.
Wheaton College, she says, equipped her for living a creative life informed by her Christian values.
"I'm often asked what distinguishes fiction written by a Christian author from general, secular fiction," McElroy says. "For me, the answer is not in overt morals or in having all of my characters act in godly ways. Instead, I hope that my fiction burns with an ache for something greater than this world. I hope that my fiction is sacramental—as I learned from Dr. Christina Bieber Lake in studying Flannery O'Connor—in that my characters experience transcendence or spiritual beauty through the created world. And I hope that my work is laced with truth and hope, that despite the trials and sorrows of this world, there is the promise for something more."
Wheaton's liberal arts education also gave McElroy the tools and skills to take on various roles within the literary world—ranging from a graduate school teaching assistant to a small business owner. In 2019, after graduating with her master's degree, McElroy launched her own boutique communications consulting agency Clover and Bee, LLC, where she offers services such as manuscript editing, ghostwriting, marketing, and branding.
Looking back, she says she's indebted to the College for so much—not least of which for her literary friends-turned-advisors and editors.
"The literary world, as it turns out, is very small," she says. "One of my dearest Wheaton friends Rebecca Fox '17 is now an M.F.A. candidate at my university, and Maggie Auffarth '17 now works for my literary agent at Folio Literary Management. My time at Wheaton showed me the beauty of an English degree—and provided a community of writers and editors."—Emily Bratcher