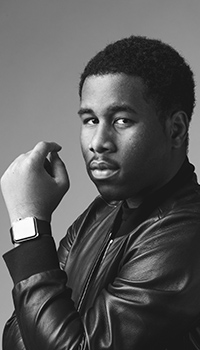 Matthew Adams '18
Assistant Account Executive
Leo Burnett
Wheaton major in Communication and Media Studies
Currently lives in Chicago, IL
"In the Wheaton community, I found the tools I needed to pursue a career in brand development and advertising."
Matt Adams '18 spent his time at Wheaton not only focusing on academics, but also building his professional resume. As a sophomore, he started managing the branding for TruColour Bandages, a company founded by Wheaton alumnus Toby Meisenheimer '96 that manufactures bandages to match a variety of skin tones. He also did a campaign photo shoot for Wheaton classmate Jeffrey Peltz '18 and his senior project-turned-apparel company, Uesay.
After graduating, Adams continued to gain professional experience with a variety of other short-term positions, including working as a production assistant for the TV show House Hunters, shooting photos for Fashionista.com, interning at a public relations firm, and selling ads at Yelp.
"My liberal arts education gave me the freedom to learn many topics and dive deep into communications," he says.
Less than a year later, he landed a job at Leo Burnett, one of the top advertising agencies in the world. The company has worked with clients that include Samsung, Kellogg's and GM.
Adams' day-to-day work at Leo Burnett is devoted to the 2020 campaign for Visionworks, a national eyewear company. As an account assistant, he is in charge of scheduling meetings, securing approval for ads, and leading calls with clients. "I am always included in conversations of strategy and design which is helping me develop the skills I need to grow in my career and become a better leader," he says.
When he looks back over his time at Wheaton, he is grateful for the relationships he built with staff and faculty, including Gospel Choir Director Tanya Egler, Politics and International Relations Professor Dr. Michael McKoy, Undergraduate Admissions Associate Director of Marketing and Communications Beverly Mason, and the late Director of the Office of Multicultural Development Rodney Sisco '84.
Adams keeps in touch with OMD Associate Director Billye Kee. "Not only did she support me in my career aspirations through advice and skill development, she supported me while I was recovering from a surgery and while I was sick," he says.
"Billye, Beverly and others in the Wheaton College community gave me the tools I need to pursue a career in brand development and advertising," he says. "There are not a lot of black and brown people at the head of branding firms, but I know I have a firm foundation to make a name for myself and encourage other people of color to do the same."-- Hannah Frankl