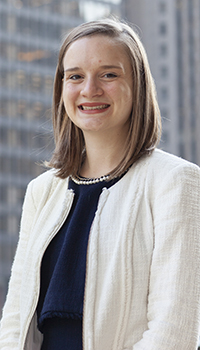 Julia Wittrock Hensel '15
Principal at Consulting Firm
Slalom Consulting
Wheaton Major in Business/Economics
Currently lives in Chicago, IL
"Wheaton's 'intentional community' taught me how to care about the entire person, not just their work product."
Julia Wittrock Hensel '15 works high above Chicago in a soaring skyscraper just one block off Lake Michigan. As a principal for Slalom Consulting, she enjoys the view from her office and the work she does there.
Slalom consults with more than half of the Fortune 100 companies, and Hensel works specifically with their life sciences clients. "I support our clients by managing a variety of business and technical projects as well as helping clients make meaningful connections with others in their company and industry," she says.
Wheaton's emphasis on relationships and intentional community gave Hensel a good foundation for her future work. "Wheaton taught me how to care about the entire person, not just their work product—something I take with me every day as I work with our consultants and clients."
Previously, Hensel worked as an analyst at 3M, a multibillion-dollar company that makes products including Scotch Tape and Post-It Notes.
Hensel was a great fit. "As a sourcing analyst, I worked on a variety of qualitative and quantitative projects to improve the way 3M spent its money and interacted with its suppliers," she says. "I loved learning how to use data to synthesize what is happening in such a large company and solve complex problems."
Currently, Hensel is finishing up an MBA from the University of Chicago Booth School of Business. Her husband, fellow Wheaton grad Grant Hensel '15, is doing the same while serving as CEO of Nonprofit Megaphone, a startup he founded.
When they're not at work or school, the couple volunteers at Vocational Capital, a program Grant founded with other Wheaton grads. The nonprofit works to kickstart the careers of students at Wheaton, Gordon and Covenant colleges through alumni mentorship.
Julia works with students interested in consulting. "As a student at Wheaton, I was so grateful for the many Wheaton alumni who helped me think about my career and connect with roles that I was interested in," she says. "It is awesome to be able to pay this forward by partnering with Wheaton students to help them think about their career goals."--Hannah Frankl