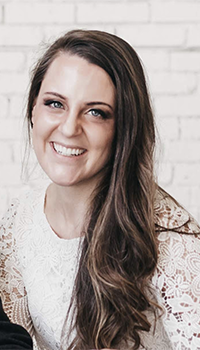 Kate Wildman Hamilton '14
Director, Information Security
Salesforce
Wheaton Major in English and Political Science
Currently lives in Seattle, Washington
"Wheaton equipped me to integrate my faith into the way I think, work, and interact with others."
Since graduating from Wheaton in 2014, Kate Wildman Hamilton '14 has worked to build her career in helping to secure emerging technology from cyber threats. After working at the American Enterprise Institute and MB Financial Bank while she completed her degrees in English and Political Science, Kate became a senior regulatory risk consultant with Crowe LLP. She joined Amazon in 2017, where she quickly rose to become the Head of Customer Audit for Amazon Web Services and a top-five speaker at AWS re:Inforce, the industry-leading cloud security conference. Last year, just five years after graduation and in the midst of planning a wedding, she became a Director of Information Security at Salesforce, a Fortune 500 company, where she is building a new customer security program.
Though she has built her career in emerging technology, Hamilton credits the Wheaton College English department for giving her a good foundation for her future career.
"My professors taught me how to quickly synthesize a huge amount of information, identify patterns, adapt my writing skills for different audiences, and communicate my ideas with poise and confidence," she says. "These skills have gained me critical visibility with leadership that has unlocked countless opportunities."
Although Wheaton prepared Hamilton for success, she says her College experience also taught her that her accomplishments don't define her.
"The most important takeaway from my time at Wheaton was to deeply understand that my identity does not rest in the practicalities of a day-to-day job, in a salary, or in any factor other than my identity as a child—and servant—of God," she says.
As a result, Hamilton says, she's thankful to God for leading her to Wheaton.
"Any time I am able to quickly craft a difficult document, encourage a coworker to redefine their view of success, or find peace in the face of uncertainty at work, I am filled with gratitude for the ways Wheaton equipped me to integrate my faith into the way I think, work, and interact with others," she says.