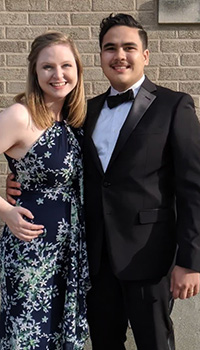 Grace Collord Payne '18 and Titus Payne '18
Law student, Teaching Assistant, Researcher, Cook
Titus: Wheaton Major in Sociology and Minor in Theology
Grace: Wheaton Major in Communication with concentration in Rhetoric and Culture, Certificate in Peace and Conflict Studies, Minor in History
Currently live in Washington, D.C.
"We're thankful for the education that has brought us this far and for the relationships that have continued to sustain us."
Grace and Titus Payne know how to multi-task.
The couple, who met freshman year at Wheaton College and married two weeks after graduation, now juggle multiple jobs and law school between them. But both say that their time at Wheaton prepared them for the balancing act.
Grace is in the middle of her second year at American University's Washington School of Law, while also serving as the Dean's Fellow for the Legal Rhetoric program and as a junior staffer for the Administrative Law Review. Next summer, Grace will join the in-house legal team for Save the Children, a nonprofit aimed at improving the lives of children around the world.
"The Rhetoric major was particularly stretching for someone initially uncomfortable with public speaking, but it connected an existing love of research and writing with a discipline of being able to communicate organized ideas in real time," Grace says. "These skills have certainly translated to the challenges of law school.
Titus is a Research Assistant at the American Institutes for Research working on a project related to the assessment of the effectiveness of juvenile drug courts around the country. In addition to this work, until very recently, Titus also put in long hours as a cook at restaurant Buck's Fishing and Camping, an upscale neighborhood favorite.
"I've found that the attitude of a learner, cultivated by a strong liberal arts education, has served me well in approaching the learning curves of both jobs as I encountered very different workspaces," Titus says.
Although it's not easy balancing multiple jobs, law school, a new marriage, and joining a church community, Grace and Titus say that God's provision has been abundant.
"The high point has been seeing and appreciating how God has provided, time and time again, whether it's people in our lives, the right part of the right book, or enough to eat," Grace says. "We're thankful for the education that has brought us this far and for the relationships that have continued to sustain us."