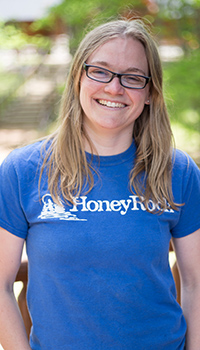 Rachael Cyrus Botting '14, M.A. '15
Program Manager and Faculty Member
HoneyRock Outdoor Center for Leadership Development of Wheaton College
Wheaton B.S. in Biology, M.A. in Christian Formation and Ministry, Outdoor Adventure Leadership
Currently lives in Three Lakes, WI
"The work I do every day relies on the foundation God built for me at Wheaton College."
Rachael Cyrus Botting '14, M.A. '15, gets up in the dark three days a week to go for a sunrise run through the forests of Three Lakes, Wisconsin. "For me the metaphor is that of running into the day—an intentional transition from sleep to life," she says. This morning ritual grounds Botting as she moves into a bustling workday.
As a faculty member and manager of multiple programs at HoneyRock Center for Leadership Development of Wheaton College, Botting's daily work schedule might include teaching a graduate-level research methods course, writing an article for an academic journal, mentoring a student, or driving a ski boat. In juggling these responsibilities, Botting relies on lessons she learned at Wheaton.
"Academically, I cultivated both skills for and love of learning," she says. "Relationally, Wheaton developed in me the emotional and social capacity that is essential to my daily interactions with students, parents, and faculty. Spiritually, Wheaton provided me with the foundation I needed to walk through the ups and downs of my own life, as well as to walk alongside others."
In 2012, as a rising junior, Botting spent her summer working as a camp counselor where she fell in love with HoneyRock's ministry model. In fact, the way HoneyRock seeks to engage with and develop the whole person was so influential that she decided to enroll in the M.A. in Outdoor Adventure Leadership, and eventually accepted an offer to work as a program manager at HoneyRock.
"Being a program manager at HoneyRock is a bit like being both part of a circus and being a circus master," she says. "We have a lot of responsibilities in terms of logistics, planning, and day-to-day operations, and there are lots of points of overlap with other programs internally and externally at Wheaton College. We all wear many hats and keep many plates spinning at once!"
In between all of this multitasking, Botting also got married, competed in a couple of sprint triathlons, and started a Ph.D. in Educational Studies from Biola University.
In everything, Botting strives to serve Christ and His Kingdom. "The work I do every day relies on the foundation God built for me at Wheaton College," she says. "The liberal arts gave me a vision for the value of a wide range of work experiences."—Hannah Frankl