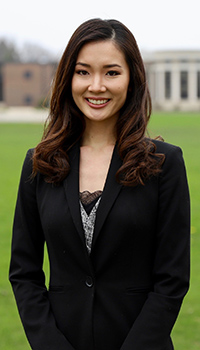 Jessica Min Chang '12
Chief Advancement and Partnership Officer
The Field School
Wheaton major in Communication with a concentration in Rhetoric and Culture and Spanish
Currently lives in Chicago, Illinois
"Encountering and cultivating connections with good people through Wheaton has shaped the trajectory of my life and career."
Participating in activities like Wheaton College's student government and phonathon laid the groundwork for Jessica Min Chang '12 to build stronger communities through philanthropy.
"My four years in Student Government honed organizational leadership skills and created a living lab for practicing effective communication," she says. "Phonathon served as an entry point into the world of Advancement in education and fundraising more broadly."
These are experiences Chang took with her to the advancement team at Trinity International University, where she served for nearly eight years including most recently as Associate Vice President. In April 2020, she accepted a position as the Chief Advancement and Partnerships Officer at The Field School, a diverse, classical, Christ-centered school serving families in neighborhoods across Chicago.
As Chief Advancement and Partnerships Officer, Chang furthers the mission of transforming lives through Christ-centered education with the belief that "embracing racial and socioeconomic diversity is central to unity in the Church."
Her work at The Field School is informed by insights she gained on student government in roles as a Freshman Class Council member, Sophomore Class President, Executive Vice President of Community Diversity, and Student Body President.
"I loved the teamwork developed with creative, passionate, and dedicated people, each with unique gifts but committed to the same vision of generating positive change," Chang says.
In addition to her work in student government, Chang was also fortified by Wheaton's community. Her freshman year, she became friends with a group of five women living on 2 West, a floor in Fischer Hall.
"We were each from various parts of the country and world, and had very different life experiences prior to Wheaton," she says. "Our friendship was forged through countless late-night conversations, meals, adventures on- and off-campus, shared passions, support for each other, and coming to love one another through our differences."
To this day, these women are some of Chang's close friends who have been with her through many seasons of life.
"Wheaton shaped within me the core value of creating community through intentional investment," Chang says. "In my work, it has allowed me to build meaningful relationships with external partners as well as colleagues. Encountering and cultivating connections with good people through Wheaton has shaped the trajectory of my life and career."
In 2011 she met her future husband, Raymond Chang '06, who oversees Discipleship Ministries at the College. Jessica and Ray give through relationships at the College together, including through an annual Changsgiving dinner for international students. The two have also provided leadership in launching a new kind of community through the Asian American Christian Collaborative and participated in drafting the organization's recent statement on Anti-Asian Racism, signed by more than 10,000 Christian leaders and individuals within one month of publication.—Hannah Frankl