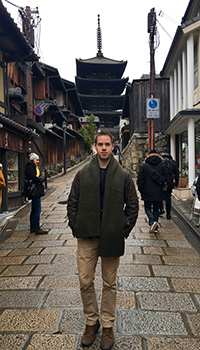 Torrey Benware '13
Deputy Director
Secretary of the Navy White House and Congressional Liaison Office
Wheaton major in International Relations and French
Currently lives in Alexandria, VA
"Wheaton prepared me for life in D.C. and life in the Navy, and helped build me into a better communicator."
Since graduating from Wheaton, Torrey Benware '13 has lived and worked all over the world. He interned for both Representative Randy Hultgren and Senator Mark Kirk and worked for the U.S. Chamber of Commerce in Washington, D.C., completed Officer Candidate School at Naval Station Newport in Rhode Island, and worked on the Navy ships USS Fitzgerald and USS Shiloh, while based in Yokosuka, Japan.
A Surface Warfare Officer with the U.S. Navy, Benware now serves as deputy director for the Secretary of the Navy White House and Congressional Liaison Office at the Pentagon.
"My life after Wheaton has been a wide and varied course," Benware says. "Wheaton taught me how to approach each new challenge with confidence and faith."
While at Wheaton, Benware participated in student government, co-led an informal student fitness group, and double-majored in International Relations and French, which he says all equipped him well for his future roles with the Navy, which he applied for in 2013.
"My International Relations studies at Wheaton prepared me to understand the ongoing conflicts in the South China Sea and on the Korean Peninsula," he says. "My studies in the French department also inadvertently helped me when I moved to a new country. While I never expected to live in Japan after Wheaton, the same practices I used to study and learn French came in hand while learning enough Japanese to get around."
But he says his liberal arts training really kicked in when he was wrapping up his time on the USS Shiloh. His work on the Ticonderoga-class guided-missile cruiser was going to culminate in a six-month training certification and ship-wide inspection—two tasks that no fleet had ever attempted at the same time.
Benware was chosen to head both projects, and as the Shiloh began its work-ups for future deployments, he began creating a massive schedule, which he adjusted daily as he coordinated with hundreds of other crew members, Navy officials, trainers, and inspectors. "I think that is where my liberal arts education came in handy," he says. "I found it easier to grasp the basics of a wide variety of topics and could work out which events had conflicting or congruent requirements."
His ship passed both the certification and the inspection on schedule and on the first try. After this success, the Navy transitioned him into the job he has today.
Here he works to communicate important information between the Secretary of the Navy and Members of Congress and between President Trump and the citizens who write him regarding Navy matters.
"Wheaton prepared me for life in D.C. and life in the Navy, and helped build me into a better communicator."—Hannah Frankl