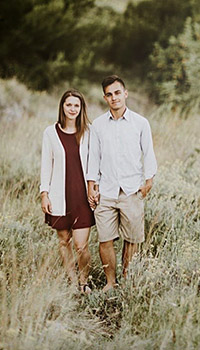 Ingrid '15 and Jordan Heres '15
International Disaster Response Technicians; Small Business Owners
Ingrid Major in Anthropology, Jordan in Economics and Bible/Theology
Currently live in Charlottesville, VA
"My liberal arts education taught me to learn and adapt quickly to new situations," Jordan says.
For Ingrid Heres '15 and Jordan Heres '15, there is no typical workday.
On any given day, they might be on the ground in Italy creating a 60-bed hospital out of an empty decommissioned airplane or distributing supplies to towns in Iraq recently liberated from ISIS. Alternatively, they might be at their home base in Charlottesville, Virginia resting up from their work that can involve grueling 14-hour workdays while they wait for the next call.
The Wheaton College couple work in disaster response. When a disaster occurs somewhere around the world—whether an earthquake or an epidemic—the Heres might get a call to help coordinate the logistics of the response.
"We are continually learning what it looks like to serve God and live out our vocation in the simplest ways as well as in the grand ways, Ingrid says. "What we particularly loved about our Wheaton experience is that we were taught to make every part of life count."
Their first job—in Nepal which had been decimated by an earthquake—came just weeks after they graduated from Wheaton in 2015.
"Many times, when I am out on a deployment as a disaster response technician, I have to fulfill a job that I have no training for," she says. "In the middle of an emergency, there is no time to flounder and perfect the skill, you just have to give it your best and figure it out. Through liberal arts, I learned to connect all sorts of subjects to the bigger picture of life, faith, and advancing Christ's kingdom. I lean on that education when I am faced with shoes that seem too big to fill or like I don't have all the tools I need to solve a problem."
Recently, Ingrid and Jordan were deployed to the Lombardy region of Italy to coordinate the response to the COVID-19 pandemic in this community centered outside of Milan. Ingrid had less than 48 hours to hire a team of translators in a community in which she had no experience or background. Otherwise, the field hospital would be unable to open. "It was daunting," she says.
"I am proud to say that we ended up with an incredible team of translators and we opened on schedule," Ingrid says. "I don't say this to commend myself. I made plenty of mistakes along the way--but rather to first of all testify that God is going to use us in our weakness, and secondly, to express my thankfulness for an education which was varied, creative, and forced me to think critically."
Jordan is equally grateful for the versatility that his Wheaton education afforded him.
"My liberal arts education taught me to learn and adapt quickly to new situations," he says. "My work in disaster relief work relies on adaptability and quick, keen analysis. I have often thought that nothing could prepare someone for disaster relief work better than a liberal arts education, particularly one like Wheaton's where a holistic worldview equips you to navigate challenging questions related to suffering, justice, and God's redemption of the world."—Emily Bratcher