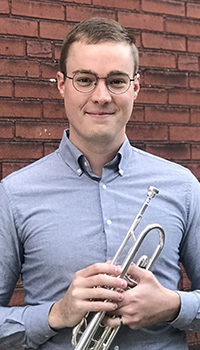 Aaron Krumsieg '14
Trumpet Player
St. Louis Brass Band
Wheaton major in Trumpet Performance
Currently lives in St. Louis, MO
"My education and experiences at Wheaton have prepared me for a wide variety of circumstances."
After graduating from Yale School of Music and working around the world honing his craft, Wheaton College Conservatory of Music graduate Aaron Krumsieg '14 recently moved back to his hometown of St. Louis to pursue a career as a freelance musician.
Krumsieg, a trumpeter, plays with the St. Louis Brass Band, teaches trumpet and brass chamber music at local high schools, provides music for Sunday morning worship and substitutes with other local ensembles.
Krumsieg says Wheaton helped him forge a career in music. "For a young performing artist, there are few things more important than sheer volume of time dedicated to making excellent music," he says. "The intimate setting of Wheaton's Conservatory allows driven students more than enough playing time in the various ensembles, learning a prominent, challenging repertoire."
Just after his 2014 graduation, Krumsieg was invited to perform in the prestigious Pacific Music Festival in Sapporo, Japan, which draws musicians and viewers from all over the world. World-renowned conductor John Nelson '63 was also there with the baton. "I had performed with him a few years prior at a Wheaton concert, so it was a treat to make music again with the gracious, sincere, and musically sensitive conductor that he is," Krumsieg says.
After receiving a master's degree in Trumpet Performance from Yale School of Music—on full scholarship—he moved to Seoul, where he worked as an orchestral trumpet player, taught English as a Second Language and met his future wife, Tae Eun, whom he married in 2018.
"My education and experiences at Wheaton have informed, shaped, and prepared me for a wide variety of circumstances," he says.--Hannah Frankl