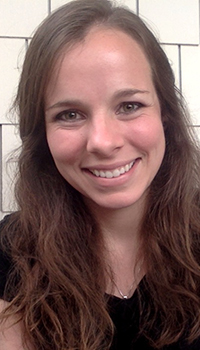 Katrina Burlet '16
Nonprofit Executive Director
Justice Debate League
Wheaton Major in Political Science
Currently lives in Wheaton, IL
"I could not imagine a better culmination of the passions God has grown in me and the training He's given me from my time at Wheaton."
In March 2018, state legislators, prison reform activists and church leaders arrived at the maximum security Stateville Correctional Center to watch the unprecedented—a debate about Illinois' parole system, argued by people incarcerated in Illinois' prison system.
Although debate coach Katrina Burlet '16 stood in the back of the room, she had been at the forefront of making the event happen—just two years after her graduation from Wheaton College.
As founder and executive director of the nonprofit Justice Debate League, Burlet combines her passion for serving those who are marginalized with her love for debate. She believes that coaching incarcerated individuals to compete in debate competitions gives them the ability and confidence to advocate for themselves.
Burlet says that her interest in debate and political engagement through the lens of her faith both started when she was a student at Wheaton, where she competed on the College's debate team.
"I learned a lot about how we ought to view and engage with various political issues in a loving, God-honoring way," she says. "This helps me daily as I engage in difficult social and political conversations with people from a variety of faith backgrounds."
Soon after graduating with a degree in political science, Burlet became a coach for Wheaton's debate team and started a debate team at her former high school. She was also trained as a volunteer at the Illinois Youth Center in Warrenville, and came up with the idea to start a debate team at the juvenile prison.
At the National High School Debate Championship in 2017, Burlet met another coach, Jon Sahlman, who helped her get the Justice Debate League off the ground. Just over two years later, it's a fully-fledged 501(c)3 with debate teams in prisons across the country.
"I have been so in awe of God in all of this," Burlet says. "I could not imagine a better culmination of the passions God has grown in me and the training He's given me from my political science degree and my time on the debate team at Wheaton. I still can't believe that He used me to pull it together."—Hannah Frankl