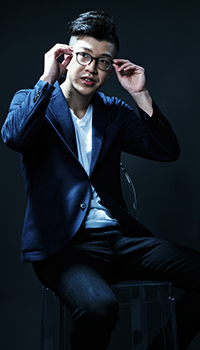 Elliot Leung '16
Film Composer
Wheaton Major in Music Composition
Currently lives in Hong Kong and Beijing, China
"I was able to have a very individualized education at Wheaton."
To compose the score for the 2019 Chinese action film Operation Red Sea, Elliot Leung '16 often pulled 12-hour days in his studio writing, orchestrating, and mixing. But the film composer's hard work paid off: Operation Red Sea ended up grossing $580 million USD.
In addition to film scores, the Wheaton College graduate who grew up in Hong Kong also created music for television, video games, and theater productions—roles that he says the Conservatory of Music helped prepare him for.
In fact, as soon as he arrived at Wheaton, Leung began curating his education around his goal of being a movie composer. He took every upper level class in music composition, gained experience composing broadcast music for the athletic department, and also created independent studies with the help of music professors like Daniel Sommerville, Jonathan Saylor, and Shawn Okpebholo. "I was able to have a very individualized education at Wheaton," he says. "Many of my classes had just one or two other students during my final years. That prepared me well to write symphonic repertoire every day, as well as to take control in recording sessions."
He got his first major job during his sophomore year at Wheaton when a Chinese film composer contracted him to orchestrate the score for an Asian theatrical release Insanity. Leung also began composing his own music first for a mobile video game and for the film Think and Grow Rich: The Legacy. His work on these projects caught the eye of film director Dante Lam, who sought him out to compose the score for Operation Red Sea, an action movie based on a 2015 mission to evacuate Chinese citizens in Yemen.
After the success of Operation Red Sea, Leung was brought in to compose the score for a another of Lam's films, The Rescue. For this score, Leung was able to fulfill a dream—recording the score at the Synchron Stage in Vienna, which he describes as "acoustically one of the best halls for orchestras in the world." Currently, Leung is working with Lam on a third movie, the title and details of which are as yet to be disclosed.
As he considers his success so far, Leung is grateful for his liberal arts education at Wheaton.
"When I create, I work closely with many different film departments, such as design, art, editing, and screenwriting," he says. "The liberal arts helped me to work with these other disciplines by inspiring and nurturing my curiosity."--Hannah Frankl