Teddy Kelley '15
High School English Teacher, Football Coach, Photographer
Vernon Hills High School
Wheaton Major in English and Secondary Education
Currently lives in Libertyville, IL
"Being able to use my God-given gifts is what a liberal arts education is all about."
Teddy Kelley '15 attended Wheaton College with a clear vision: He wanted a career in education, and he wanted to play college football. Wheaton provided both.
"The education department at Wheaton prepared me exceedingly well for the demands of being a teacher," he says. "My education instructors not only taught me the best pedagogical practices, but also gave me a foundation for how to glorify Christ in how I teach."
Kelley balanced the rigors of majoring in English and education and playing safety on the Thunder football team. "That was intensely character-building," he says. "The coaches and players on the football team sharpened me and pointed me towards Christ every day."
Today, Kelley teaches World Literature at Vernon Hills High School in his hometown of Libertyville, Illinois.
"My goal as a teacher is to show Christ's love to every student that walks into my classroom," Kelley says. "That goal shapes how I lead discussions, answer questions, and even give feedback on essays. High school can be a really difficult time for a lot of students, so I try to be someone that they can trust and be encouraged by every day."
He also uses his Thunder gridiron experience as a coach for the freshman and sophomore team at Vernon Hills. "I am constantly talking to my players about having integrity, holding each other accountable, responding to adversity, and being a part of something that is bigger than yourself."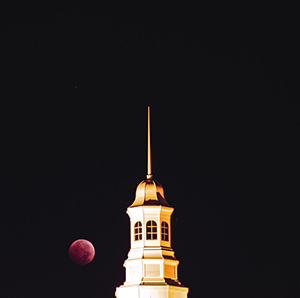 Kelley's Wheaton experience led him to a surprising discovery. He started taking photographs at several of the forest preserves near campus and quietly posting them online. During his senior year, when his friends discovered his Instagram feed, they encouraged him to enter his photography in a Collegewide competition. "When I got excited about photography, my friends got excited with me," he says. He entered the photo contest, and ended up winning it with a photo of the blood moon.
"The Wheaton photo contest was the first time I had ever been recognized for my photography," he says. Kelley, an avid hunter and fisherman, now has a side business doing nature and lifestyle photography. His clients include outdoor companies such as YETI, Bridgestone Tires, and Sitka Gear.
Kelley is grateful for the ways his decision to come to Wheaton shaped his life. "Wheaton was a place where I always felt encouraged and loved by those around me," he says.
—Hannah Frankl