Ken & Jean Hansen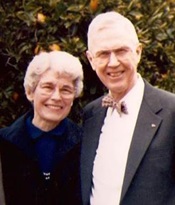 Kenneth and Jean (neé Hermann) Hansen are remembered for their welcoming home, appreciation for the imagination and the writings of the Wade authors, as well as their commitment to serving others and living out their Christian faith.
Ken and Jean were both 1941 graduates of Wheaton College. Billy Graham was a roommate of Ken's while they were students at Wheaton College, and lived with the Hansen family for a time. Following Ken's graduation with an A.B. in religion and philosophy, he became the pastor of Bethel Community Church from 1942 to 1944. It was at this church that Ken first met Marion E. Wade.
Wade hired Hansen to begin working in his residential cleaning business, which became Wade, Wenger and Associates in 1947, offering moth-proofing and rug cleaning services. In 1954 the company name changed to ServiceMaster, reflecting the quality cleaning services offered, as well as the faith of Wade and the other founders in conducting their business with high moral and ethical standards in service to the Lord. Hansen went on to become President and CEO of ServiceMaster from 1957 to 1973, Chairman of the Board in 1973, Vice Chairman at his retirement in 1981, and Director Emeritus and Advisor in 1987. Jean Hansen was very involved in Ken's work by providing gracious hospitality to business associates and clients. Much of Jean's time was also spent caring for their beloved special son, Kenny, who had Down's Syndrome.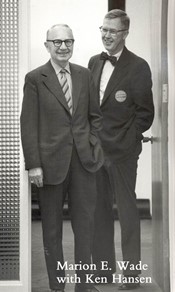 In addition to his work at ServiceMaster, Ken Hansen actively served in the Christian Service Brigade, and was a Trustee of Wheaton College from 1966 to 1978. He became a lifetime advisory trustee in 1978. Ken established thirteen scholarships at Wheaton College, including the Billy Graham Center Scholarship Program, and was instrumental in establishing the Marion E. Wade Collection.
Hansen received an M.B.A. from the University of Chicago in 1965, and was awarded an honorary LL.D. in 1966 from Wheaton College, as well as Alumni of the Year in 1993 for distinguished service to society.
In 1991, Hansen was inducted into the American Business Hall of Fame. Other previous inductees included John D. Rockefeller, Walt Disney, and Henry Ford. The Wheaton Leader May 8, 1991 article announcing this event praised Hansen for "combining business acumen with high ethical standards and moral values."
At home, the Hansens strove to create an environment of warm hospitality where they could care for and encourage others. Naming their house in Santa Barbara, California "Rivendell" after Tolkien's elvish haven in The Hobbit and The Lord of the Rings, they enjoyed welcoming visitors and providing refreshment for body and spirit. Clyde and Martha Kilby were among their many guests in California. Years earlier, when living in Wheaton, the Hansens had hosted a weekly evening book discussion group in their home; this lively group, led by Clyde Kilby, covered works by the Wade authors, and was greatly enjoyed by both Ken and Jean. Indeed, Walter Hansen, son of Ken and Jean, remembers great appreciation for the works of the Wade Center's authors being an important element of life in the Hansen home, with regular readings and references to their books frequently a part of family conversations.
Ken and Jean had seven children: Kenny, Walter, Joyce, Jean, and Linnea; two foster sons: Vincent and James; and 19 grandchildren. Jean Hansen passed away in 1989, followed by Ken on May 8, 1994 at the age of 75.
Walter & Darlene Hansen
Dr. Walter Hansen '68 is a scholar, pastor, and theologian. He has over 40 years of ministry experience, both in pastoral and academic contexts, including serving abroad in Singapore. His wife Darlene is a gifted artist, specializing in portraits and still life. A 1971 graduate of Moody Bible Institute, Darlene is also an avid reader of the Wade authors and all great literature.
Dr. Hansen graduated with a B.A. in Philosophy from Wheaton College in 1968, and went on to earn an M.Div. from Trinity Evangelical Divinity School in 1972, and a Th.D. from the University of Toronto in 1986. He is Professor Emeritus of New Testament Interpretation at Fuller Theological Seminary; his areas of expertise include Pauline Studies, Luke-Acts, New Testament Ethics, Interpretation of the Bible, Visual Arts, and Theology. His publications of numerous books and articles cover selected subjects of Pauline scholarship; most recently, Galatians (2010), The Letter to the Philippians (2009) in The Pillar New Testament Commentary series, Sacra Coversazione (2009) co-authored with Bruce Herman in the journal Image, and Through Your Eyes: Dialogues on the Paintings of Bruce Herman (2013), also co-authored by Walter and Bruce.
Dr. Hansen served as a former pastor of The Chapel in Cleveland, Ohio, for eight years and as a teacher for six years at Trinity Theological College in Singapore, and has been on faculty at Fuller Theological Seminary since 1995. He has served as President of the family foundation The Rivendell Steward's Trust since 1986, and has been on the Wade Board since 2013. The Hansens make their home in Chicago, and have three children: Nathaniel, Jonathan, and Linnea, and seven grandchildren.