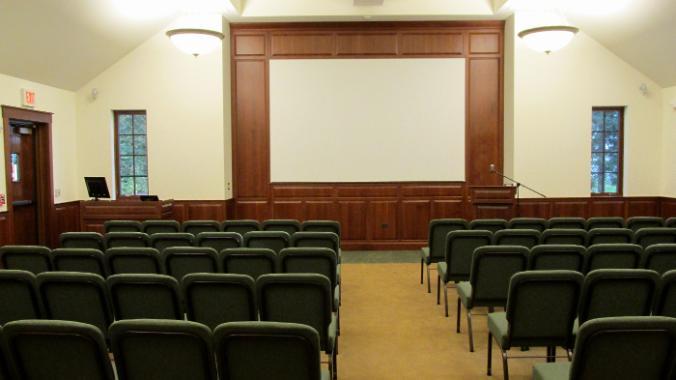 A Space for Public Programming
The Marion E. Wade Center building, dedicated in 2001, created entirely new educational and outreach possibilities for the Wade. Over time, it became apparent that the Wade Center's spaces for public programming were not large enough to accommodate the numbers of people attending Wade events. A solution was needed.
The Bakke Auditorium was dedicated on October 29, 2015 as part of our 50th anniversary celebration of the founding of the Marion E. Wade Center. It is named for lead donors Stanley and Jeannette Bakke, Wheaton Class of 1961. The Bakkes have had a longtime and close connection to the Wade Center dating back to their student days and friendship with our founder Clyde S. Kilby. In addition, Stan has served on the Wade Center Board since 2006.
Designed by our original building architect Terry Oppermann to reflect key elements of our main building, the beautiful wood trim and lofty ceiling of the Bakke Auditorium are clearly reminiscent of the Kilby Reading Room. As a result, the Auditorium's warm ambience creates a splendid and versatile setting for a wide variety of events, and increased capacity of 144 seats. The Bakke's main entrance is off of Washington St. on the east side of the Wade's building.
We are grateful for this addition which enables the Wade Center to explore new and creative ways to engage our visitors ever more winsomely with the words of our authors.
View Photos of the Bakke Auditorium