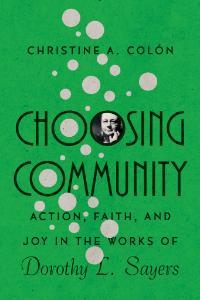 Choosing Community: Action, Faith, and Joy in the Works of Dorothy L. Sayers, by Christine Colón, Associate Professor of English, Wheaton College.
Few writers in the twentieth century were as creative and productive as Dorothy L. Sayers, the English playwright, novelist, and poet. Her justly renowned works include detective fiction featuring Lord Peter Wimsey, theological reflections, literary criticism, and her translation of Dante's Divine Comedy.
Among the prominent themes of her work was the need for and challenges of developing community. Sayers, who was herself an active member of various writing groups throughout her lifetime, offers her readers visions of both fractured and harmonious communities.
In this third volume in the Hansen Lectureship Series published by InterVarsity Press Academic, Christine Colón explores the role of community in Sayers's works. In particular, she considers how Sayers offers a vision of communities called to action, faith, and joy, and she reflects on how we also are called to live in community together.
Praise for Choosing Community:
"Christine Colón has provided an engaging argument for the importance of community in the astonishingly varied literary corpus of Dorothy L. Sayers. Colón's insightful tracking of this theme through Sayers's detective fiction, religious drama, theatrical associations, and epistolary friendships illuminates both the mind of this significant author and the importance of the community life that Sayers's life so remarkably exemplified. The book is an especially winsome account of an important author and a crucial theme in lives well lived."
Mark Noll, McAnaney Professor of History, emeritus, University of Notre Dame
The Wade Center is grateful for this partnership with IVP Academic, and the many ways that this book series broadens the scope of the conversation about these authors and their work. Copies of Choosing Community are available for purchase at the Wade Center, and online from IVP Academic.