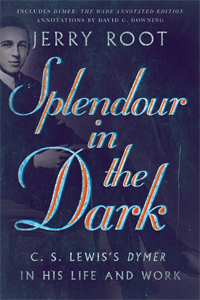 Splendour in the Dark: C.S. Lewis's Dymer in His Life and Work, by Jerry Root, Professor of Evangelism and Director of the Evangelism Initiative, Wheaton College.
Several years before he converted to Christianity, C.S. Lewis published a narrative poem, Dymer, under the pseudonym Clive Hamilton. Later, of course, Lewis became well known for his beloved imaginative stories, such as The Chronicles of Narnia and Till We Have Faces, as well as his ability to defend and articulate the faith in works such as Mere Christianity.
But what about his literary work before his conversion?
In this fourth volume in the Hansen Lectureship Series, Jerry Root contends that Lewis's early poem Dymer not only sheds light on the development of Lewis's literary skills, but it also offers a glimpse of what was to come in his intellectual and spiritual growth—a "splendour in the dark," to borrow one of Lewis's own lines from the poem. Under Root's careful analysis, Dymer becomes a way to understand both Lewis's change of mind as well as the way in which each of us is led on a journey of faith.
This volume also includes the complete text of C.S. Lewis's Dymer with annotations from David C. Downing, co-director of the Marion E. Wade Center.
The Hansen Lectureship series offers accessible and insightful reflections by Wheaton College faculty members based upon the transformative work of the Wade Center authors.
Praise for Splendour in the Dark:
"Isn't it remarkable that this poem, written almost a century ago, has now been brought to life? Of course, because the poem's author was C.S. Lewis, it will be of interest to a whole slew of Lewis lovers, eager for fresh material to ingest in the name of literary scholarship. Dr. Jerry Root, a longtime advocate and commentator of the Lewis oeuvre has given us a new reading to ponder, and in this annotated version of Dymer he offers an appreciation of Lewis's power of versification and command of language. As you read, you are made aware of a practicing wordsmith doing his exercises and enjoying himself immensely. His early studies with W. T. Kirkpatrick, which involved Greek and Latin, gave the young Lewis an understanding of how much of the English language evolved, and thus supplies even this early writing with a richness and depth."
Luci N. Shaw, author of Thumbprint in the Clay
"Jerry Root has succeeded in making Dymer interesting and showing that the poem is worthy of academic study. He has also been brave enough to invite people who disagree with him to contribute to the volume. This is a fascinating read on a difficult subject."
Suzanne Bray, Lille Catholic University
Read a book review by G. Connor Salter in The Lamp-Post (Vol. 40, No. 2, Fall/Winter 2022)
The Wade Center is grateful for this partnership with IVP Academic, and the many ways that this book series broadens the scope of the conversation about these authors and their work.
Splendour in the Dark, signed by Jerry Root and David C. Downing, is available from the Wade Center for purchase (contact the Wade for details).