Essays on C.S. Lewis, J.R.R. Tolkien, and the Inklings by Clyde S. Kilby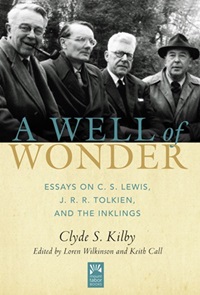 The Marion E. Wade Center and Paraclete Press are pleased to present A Well of Wonder, a collected volume of writings by Wade founder Clyde S. Kilby on the Wade authors. This compilation was edited by Loren Wilkinson, Professor Emeritus at Regent College and a former student of Kilby's. A Well of Wonder is divided into three parts: Section 1: C.S. Lewis on Theology and the Witness of Literature; Section 2: J.R.R. Tolkien on Story and the Power of Myth; Section 3: The Inklings as Shapers of a New Christian Imagination.
Clyde Kilby met both Lewis and Tolkien during his lifetime, and these writings recall those personal connections as well as demonstrate his deep understanding of their works. His insightful comments on Charles Williams, Dorothy L. Sayers and other of the Wade authors are also included in this collection. Significantly, as one of the first scholars to work on these seven authors, Dr. Kilby's writings also shine light on prevailing themes at the dawn of the Inklings scholarship era.
In A Well of Wonder, in addition to offering his own understanding of the Wade authors, Clyde Kilby serves as our guide to a greater perception of the beauty of the created world around us. As editor Loren Wilkerson explains, Kilby does this by not only opening a door to this new world, but also by using the words and insights of the Wade authors to aid us in seeing more clearly; thereby, "putting [his readers] in the hands of a whole set of wise, holy, and imaginative guides." Kilby obviously knew a great deal already of the country he wanted others to explore, and "one of the marks of his own saintliness is the eagerness with which he stepped aside and let these guides lead . . . on out through the door he had opened."
This publishing project spanned more than a decade and was guided to completion by the Wade's Interim Director, Marjorie Lamp Mead; and Keith Call, Special Collection Assistant in Wheaton College's Special Collections department as well as series editor. In looking back, general editor Keith Call recalls that "the most interesting aspect of this project is seeing what a glowing testimony Dr. Kilby left behind, one of intellectual vigor, hospitality, and pure kindness."
Listen to an excerpt from the book.
Endorsements for A Well of Wonder
"Next to the Inklings themselves, I would place Clyde Kilby and his work on the topmost echelon of those who fully understand--and share--the outlook of Lewis and Tolkien and all of the Inklings. Upon reading anything that Kilby wrote (and I owe my entire world-and-life view to him and his massive appreciation for those gentlemen--he was my beloved mentor), I am yet again ushered into that glorious world which stands on the very borders of Paradise itself."
Thomas Howard
Inklings scholar, author, and former student of Clyde Kilby
***
"For over three decades Clyde Kilby did more than anyone to introduce North Americans to the writings of C.S. Lewis, J.R.R. Tolkien and the Inklings. Now, with the publication of A WELL OF WONDER, Professor Kilby's contagious enthusiasm for these authors can inspire another generation of readers."
Lyle W. Dorsett
Director Emeritus of the Marion E. Wade Center
Billy Graham Chair of Evangelism at Beeson Divinity School
***
"Clyde S. Kilby's personal and critical encounter with C.S. Lewis and J.R.R. Tolkien expanded their influence and secured their legacy , especially among evangelicals in America. This marvelous treasury of reviews, essays, lectures, and interviews brings Dr. Kilby's popular introductions and brilliant interpretations back into print for a new generation of readers who love Lewis, Tolkien, and their literary friends."
Philip Ryken
President, Wheaton College, Illinois
***
"Chesterton praised Tradition for refusing to submit to "the small and arrogant oligarchy of those who merely happen to be walking about". This brilliant volume turns Chesterton's words into deeds by preserving the tradition of Kilby's scholarship for a new generation of readers. "He being dead, yet speaketh" - and what he says is well worth listening to. An excellent book from which I learned a lot."
Michael Ward
University of Oxford
co-editor of C.S. Lewis at Poets' Corner
***
"Reading this book brought back so many memories of sitting in Dr. Kilby's living room, talking about the authors we love best. There is warmth here as well as wisdom, heart as well as faith and insight. I simply love this book."
Diana Glyer
Professor of English at Azusa Pacific University
author of The Company They Keep: C.S. Lewis and J.R.R. Tolkien
as Writers in Community
***
"Many things could be said about Professor Clyde Kilby. Those of us who knew him well can recall a man Frodoesque is both his size and his sense of adventure and wonder. He was Gandalf-like in his wisdom. He had a St. Francis way about him that made even squirrels and birds come up to him. As a gentleman he was Reepicheepesque in his chivalry and determination. But, what motivated him to begin the Marion E. Wade Center at Wheaton College? This book makes readers aware that Kilby was a man of vision. He dedicated himself to preserve the legacy of C.S. Lewis and a handful of very significant authors constellating around Lewis. These papers, by Kilby, reveal his passion for the authors he loved. This book will not only allow us to see what he saw, but it also gives a glimpse into the mind and heart of a man who truly embodied what it means to be a man of letters."
Jerry Root
author of The Surprising Imagination of C.S. Lewis
Professor of Evangelism, Wheaton College, Illinois
***
"As the first decades of Inklings scholarship, the fifties and the sixties and early seventies, recede from living memory, it's good to see the papers of an influential critic from that period made available again. Kilby is now mainly remembered for founding the Wade Collection, and that was certainly his greatest achievement as a Lewis scholar. But he was also among the first to see The Inklings as a coherent writers' group, and the pieces collected herein make the case for considering these authors in context with each other's work. Perhaps the outstanding piece is his short account of meeting C. S. Lewis at Oxford in 1953; published in 1954, this is one of the earliest memoirs of Lewis to see print, and it's good for it to see the light of day again after more than a half-century."
John D. Rateliff
Inklings scholar, author of The History of The Hobbit
***
"Clyde S. Kilby is rare among the best expositors of C.S. Lewis, J.R.R. Tolkien and their circle of friends in that he became personally acquainted not only with Lewis and Tolkien, but also Lewis's brother Major Warren Lewis, Owen Barfield, Lord David Cecil, and others of the Inklings. He particularly captured the soul of C.S. Lewis in his lectures, articles and books, which guided his vision in creating and curating the prestigious Wade Collection at Wheaton College, Illinois. This delightful book makes available Dr Kilby's wide-ranging and inspiring take on Lewis, Tolkien and the affinities they shared with their circle, the Inklings, in their enchantment with profound thought vibrant with imaginative wonder which took them beyond "the walls of the world".
Colin Duriez
Inklings scholar, author of The Oxford Inklings