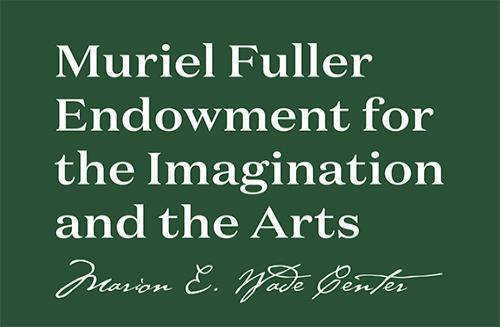 Friday, November 1, 2019
As a precursor to the evening's Ballet 5:8 performance of "The Space in Between" — a ballet inspired by Lewis's The Great Divorce — Dr. David Downing, co-director of the Wade Center and Lewis scholar, discussed C.S. Lewis's spiritual fantasy. The book explores what might happen if inhabitants of hell were allowed to visit the outskirts of heaven, with the option of staying. Most decide not to, as they prefer the sovereignty of Self over the chance of salvation. Lewis brilliantly dissects the actions and attitudes that cause people to move away from God, locking the doors of their spiritual prisons from the inside.
David C. Downing is the co-director of the Marion E. Wade Center, along with his wife Crystal Downing. He has written four scholarly books on C.S. Lewis and also provided a critical introduction and more than 400 explanatory notes to the Wade Center Annotated Edition of C.S. Lewis's The Pilgrim's Regress, originally published in 1933 and reissued by Eerdmans in 2014. Downing grew up in Colorado, graduated from Westmont College, and earned his Ph.D. from UCLA. Prior to coming to the Wade, he served as the R.W. Schlosser Professor of English at Elizabethtown College in Pennsylvania.

Dancing to C.S. Lewis with Ballet 5:8
7:30 p.m. — Edman Chapel, Wheaton College
The Marion E. Wade Center, Wheaton College Artist Series, and Ballet 5:8 presented a ballet inspired by three watershed works by C.S. Lewis: The Great Divorce, "Meditation in a Toolshed," and The Weight of Glory.
Artistic Director Julianna Rubio Slager of Ballet 5:8 brought the novel The Great Divorce to life in "The Space in Between." The dancers told this thought-provoking story of passengers on a bus ride between heaven and hell. Through colorful costuming and masterful athleticism, this ballet enchanted the eye and mind with the possibilities in the afterlife.
Slager's "Meditations" was inspired by C.S. Lewis's essay "Meditation in a Toolshed," and explored how a different perspective can lead two similar people to opposite conclusions, an analogy Lewis used to describe the mystery of faith.
"Of Splendors and Horrors," also by Slager, made its world premiere and was inspired by C.S. Lewis's The Weight of Glory.
Participants also had the opportunity to hear from Julianna Rubio Slager and the ballet crew during a pre-event program, Grace Notes, at 6:30 p.m. in Edman Chapel.