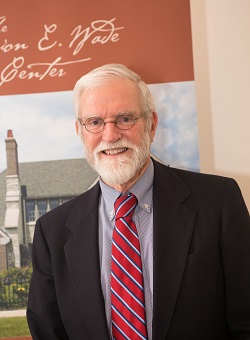 Lyle W. Dorsett was the second director of the Marion E. Wade Center, serving from 1983 to 1990. A prolific author and accomplished speaker and teacher, Dr. Dorsett received his B.A. in history (1960) and M.A. in history (1962) from the University of Missouri-Kansas City, and his Ph.D. in history from the University of Missouri-Columbia (1965). He began his teaching career at the University of Missouri, moving briefly to the Univ. of Southern California and University of Colorado at Denver, before he joined the history department at the University of Denver.
Specializing originally in urban history, Dr. Dorsett's academic career took a turn after he published a biography of Joy Davidman (C.S. Lewis's wife), titled And God Came In. His great interest in the writings of Lewis led him to accept the position of director of the Wade Center after Dr. Kilby's retirement. During Dr. Dorsett's tenure at the Wade, he began the oral history project which is a significant resource of original material relating to the seven Wade authors and which now numbers over 90 recorded interviews.
In 1990, Dr. Dorsett left the position of Wade Center director in order to return full-time to the classroom. He served for a brief time as the Director of Urban Studies at Wheaton, but eventually, his developing interests in evangelism and revival led him to join the Wheaton College Graduate School as Professor of Christian Formation and Ministry. In 2005, he moved to Birmingham, Alabama to become the Billy Graham Professor of Evangelism at Beeson Divinity School. He retired from Beeson in spring 2018.
The author of eighteen books, including three works on C.S. Lewis, Dr. Dorsett's most recent Wade Center related work is Seeking the Secret Place: The Spiritual Formation of C.S. Lewis. He and his wife Mary have two children and four grandchildren. Dr. Dorsett continues to be connected to the work of the Wade as Director Emeritus of the Wade Center, and Emeritus member of the Wade Board.