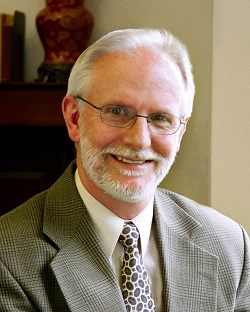 Christopher W. Mitchell was the third director of the Marion E. Wade Center from 1994 to 2013, and the first holder of the Marion E. Wade Chair of Christian Thought at Wheaton College, Wheaton, Illinois, from 2006 to 2013. In addition to serving as the Director of the Wade Center, Mitchell was Consulting Editor for VII: An Anglo-American Literary Review (now VII: Journal of the Marion E. Wade Center), a journal published annually by the Wade Center on its seven authors.
Prior to coming to Wheaton College he served as a missionary and pastor. Mitchell received his M.A. from Wheaton College, and a Ph.D. from the University of St. Andrews, Scotland, where his concentration was Historical Theology with a particular focus on Jonathan Edwards.
Dr. Mitchell's published works include:
"Following the Argument Wherever it Leads: C.S. Lewis and the Oxford University Socratic Club, 1942 to 1954," in Inklings Jahrbuch fur Literatur und Asthetik (No. 17, 1999)
"Jonathan Edwards's Scottish Connection," in Jonathan Edwards at Home and Abroad: Historical Memories, Cultural Movements, Global Horizons, eds. David W. Kling and Douglas A. Sweeney (University of South Carolina Press, 2003)
"Making Doctrine Dance," Christian History & Biography, (Fall 2005 Issue)
"C.S. Lewis and Historic Evangelicalism," C.S. Lewis and the Church: Essays in Honour of Walter Hooper, Judith Wolfe and Brenden N. Wolfe, eds. (T&T Clarke, 2011)
"C.S. Lewis and Authentic Discipleship," Knowing and Doing: C.S. Lewis Institute, A Teaching Quarterly for Discipleship of Heart and Mind, (Spring 2011 Issue)
He has also written articles for Who's Who in Christian History (Tyndale), Dictionary of Scottish Church History and Theology (T&T Clark), the Evangelical Dictionary of Theology, revised edition (Baker), and the New Dictionary of National Biography (Oxford University Press).
He retired from the Wade Center in June 2013 and moved with his wife Julie to Southern California where he taught at the Torrey Honors Institute of Biola University. He passed away suddenly and unexpectedly on July 10, 2014.
Mitchell Publications Bibliography
Resources in Memory of Chris
The Undiscovered C.S. Lewis: A Collection of Essays by Celebrated Lewis Scholars in Memory of Chris Mitchell (Winged Lion Press, 2021) contains essays which include new discoveries and fresh insights into C.S. Lewis's life and work, and also map out a trajectory for future studies. Contributors include Douglas Gresham, Diana Pavlac Glyer, Mark A. Noll, Walter Hooper, Michael Ward, and others. The book is available for sale at the Wade Center. Contact the Wade for more details.