General admission tickets for this virtual conference, coming up on April 8 and 9, are just $30.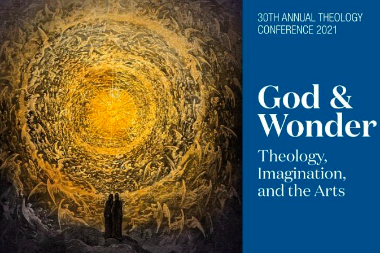 Priests, poets, authors, and singer-songwriters are among the impressive lineup of speakers for the virtual 30th Annual Wheaton College Theology Conference. The theme for this year's conference, held April 8 and 9, is "God & Wonder: Theology, Imagination, and the Arts."
"We are thrilled to invite Scott Cairns, Tish Harrison Warren, and Andrew Peterson and other remarkable speakers to provide biblical, theological, and pastoral guidance for our students and the wider public alike on the theme of wonder and the arts," said Theology Professor Dr. Jeffrey Barbeau, who is helping organize this year's conference.
Poet Scott Cairns will speak on "Imagination and What We Cannot Know," priest and author Tish Harrison Warren will speak on "Making, Longing and Lament," and singer-songwriter and author Andrew Peterson will speak on "The Mystery of Making."
Additional conference sessions include Wheaton's Dr. Barbeau on "A Theology of Imagination," Wheaton's Dr. Emily McGowin on "Wonder, Children and Theology," Duke Divinity School's Dr. Jeremy Begbie on "The Art of New Creation," and Point University's Dr. Jennifer Allen Craft on "Making Home," among others.
Rounding out the conference are a performance by Wheaton College Conservatory musicians and a poetry reading from Wheaton Provost and award-winning poet Dr. Karen An-Hwei Lee.
"My hope is that the conference will display the breadth and depth of theological reflection on the beauty of God, and that attendees will come to have a greater appreciation for the centrality of awe and wonder in their Christian lives," said Dr. David Lauber, Dean of the Wheaton College School of Biblical and Theological Studies.
In the past, Wheaton has hosted the Theology Conference in person. Due to COVID-19, this year's Theology Conference will be offered virtually—but as Dr. Barbeau highlighted there is an upside to the move online. "People from all over the world can attend the conference online at a very low cost," he said.
Tickets for the 2021 Theology Conference are a very affordable $20 for students and $30 for the general public.
In its 30th year, Wheaton is also announcing that this year is the last it will host the Theology Conference.
"We see the final Wheaton College Theology Conference as the end of one era and the opening up of another," Dr. Barbeau said. "The conference has provided a major outlet for Christian theological reflection for three decades, which is such an achievement."
Moving forward, the Biblical and Theology Department plans on hosting some new events and initiatives that draw on some of the research agendas and theological conversations that its faculty members are already involved in around the world.
The conference will close with a panel discussion moderated by Dean Lauber. It will include one of the original organizers of the conference, Dr. Dennis Okholm (Azusa Pacific University), as well as former faculty member, Dr. Mark Husbands (President of Trinity Western University), and a former Associate Dean of Biblical and Theological Studies, Dr. Jeffrey Greenman (President of Regent College)—all of whom played major roles in the annual Theology Conference. The conversation will be a retrospective on the heritage and scholarship of the Theology Conference, which has explored everything from pressing doctrinal issues related to the Holy Spirit and image of God, to topics and figures of global interest, such as Dietrich Bonhoeffer and political theology.
"I trust that people will walk away from the conference with an appreciation for the blessings of theological reflection taken up within the setting of the liberal arts, for the advancement of scholarship, and for the edification of the church," Lauber said. "This is what we have set out to do this year, and it has been the aim of the Wheaton Theology Conference for 30 years."
-Emily Bratcher