Abigail Helm '21, M.A. '23 is a double major in history and psychology with a minor in biblical and theological studies. She serves as a student ambassador in Wheaton's Center for Vocation and Career. In the fall, she will enter the Wheaton College Graduate School to study marriage and family therapy.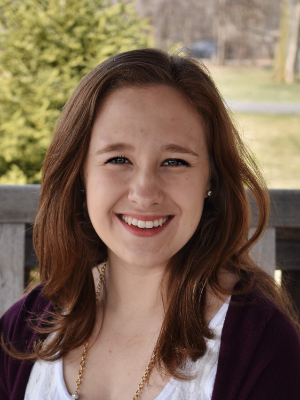 For Abigail Helm '21, M.A. '23, Wheaton has been a place of discovery and growth—a space to let her eagerness to learn and curiosity run free.
She came in as an undeclared history major, hoping to add an art history double major with the intention of becoming a fashion curator after college. With the Chicago Art Institute and the rest of the city's vibrant art and culture scene just a short train ride away, it seemed like the perfect fit.
However, courtesy of Christ at the Core, Wheaton's liberal arts curriculum, Helm took a course in developmental psychology as a general education requirement, and the content captured her attention. "I loved it," she said. "I still stuck with the history [major] because I thought I still wanted to be a curator, but then as we were studying human development I thought, 'Oh, psych is interesting.'"
She then took a class in social psychology, after which she declared a double major in history and psychology.
With her two majors, Helm's love for research has had plenty of room to grow at Wheaton. One of her favorite projects she completed for her junior research paper as part of the history major, in which she studied the letters of Abigail Adams, contrasting what she wrote to John Adams, John Quincy Adams, and Mercy Otis Warren. "I was looking at her different styles of writing and what she would share with each person, to kind of see how her roles differed or were the same based on who she was writing to," Helm said.
Through the Department of Psychology's collaborative research group opportunities, Helm has been helping Brie Arevalo, a Psy.D. candidate in the Wheaton College Graduate School, with her dissertation, under the guidance of Dr. Cynthia Neal-Kimball, Emerita Scholar in Residence. The project has given Helm an inside look into the research process from beginning to end, including writing a proposal (and rewriting, due to COVID's sudden appearance soon after the initial study was approved) and transcribing interviews for coding. Helm will join Arevalo in virtually presenting this research at the Christian Association for Psychological Studies conference on March 26-27.
Helm credits Dr. David Van Dyke '91, Marriage and Family Therapy Program Director and Associate Professor of Marriage and Family Therapy, as playing a key role in guiding Helm in her search for the right career path within psychology. "He just gave me a really honest look at [marriage and family therapy]. Having him be accessible and willing to talk is super nice," she said. Dr. Van Dyke also helped her understand "the difference between MFT and a clinical psych program."
In the undergraduate MFT class Helm took her junior year, the students had the chance to complete mock-therapy sessions as part of a group project, in which two students acted as co-therapists and another two played the role of a couple seeking counsel. "It was really hard," Helm said. "But it was so fun and I had a great time with it."
Looking back over her undergraduate career and preparing to leap into graduate studies, Helm says she's able to see how history and psychology intertwine.
"Currently, I'm in Personality [class], so we're going through all the different theories of personality and who developed them. So you can see what was going on in history . . . I've written a paper [for a class on the Great War] on shell-shock and how mental health was viewed in World War I. So it was kind of interesting to overlap them a little bit, but you can't take it super far in one direction and say this person had this mental illness because of that." Both history and psychology are much more complex than simple cause-and-effect solutions.
Helm points out that a great deal of therapy involves looking back over a person's past and identifying patterns that may suggest particular behaviors and points of view. In her Psychology of the Family class a couple semesters back, Helm and fellow students completed in-depth studies of their own family histories and discussed their findings together, applying both research and analysis to the project.
"I see a lot of history in psych," she said, highlighting how Wheaton has been a welcoming place to adopt an interdisciplinary approach to her studies. Helm added, "I enjoyed Wheaton a lot. I mean, [I applied] to grad school here, so I guess I did like it. I think it gives you a good exposure to a lot of different subjects, which is fun."
— Eliana Chow