In this Q&A post, you'll get to know Lin Zhu, Outdoor and Adventure Leadership M.A. '21, as she reflects on parts of her HoneyRock and Wheaton College Graduate School experience.
Where are you from? I came from a small village in Henan Province which is in the central part of China.
Before HoneyRock, what were you doing? I was working at a camp. That's where I learned about how camp could be very powerful and could really minister to people's character and heart. I wanted to learn more about it.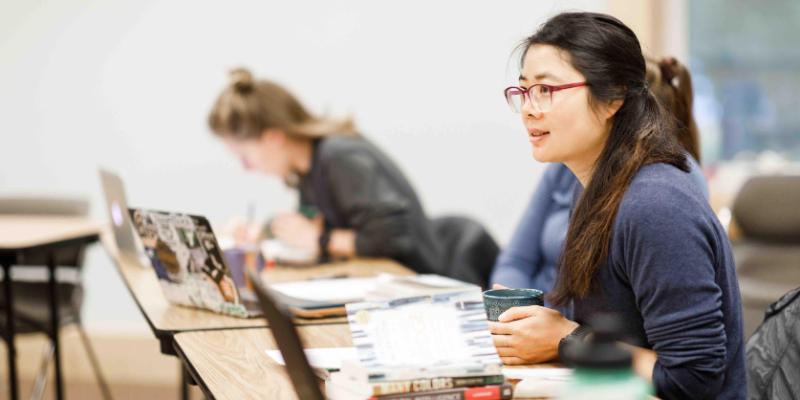 Why the Outdoor and Adventure Leadership M.A.? I was not an outdoorsy person before I started working at camp. But when I started working, I had an exposure to the outdoor environment and activities and trips. Once I had experienced that, I thought this is really good. Breathing the outdoor air gave me life. The adventures with friends, with kids, and sometimes even kids' parents—it brings people together and breaks down barriers that would normally be present.
Wheaton College went to Asia in 2018 and had a stop in Beijing. I met them and the conversation I had was very good—that led to a good impression of Wheaton College. I had a few friends who had also mentioned Wheaton College and had positive experience.
I didn't have a lot of information about the Outdoor and Adventure Leadership program specifically but Wheaton was always talked about so well. I was convinced that Wheaton was a good graduate school to attend if I wanted to learn more about camp ministry.
Getting a Visa is a big deal. If I was able to get a Visa, it might mean that God was opening doors for me. I took it as a sign. So I did not hire any Visa application agency, I choose to apply for my Visa by myself. As I stood on the curb waiting for the taxi to take me to the U.S. Embassy to apply for it, a verse came to mind—Corinthians 1:26-29.
"Brothers and sisters, think of what you were when you were called. Not many of you were wise by human standards; not many were influential; not many were of noble birth. But God chose the foolish things of the world to shame the wise; God chose the weak things of the world to shame the strong. God chose the lowly things of this world and the despised things—and the things that are not—to nullify the things that are, so that no one may boast before him."
At that moment I thought, Is God speaking to me? I did feel that verse was speaking to my heart directly. I was convinced that I was not of noble birth, not powerful, but weak and foolish, but God was using that verse to tell me he would use me though I did not think I was valuable. It was then I believed I would get the visa—and I did.
What is your favorite thing about living in the Northwoods of Wisconsin? It is such a beautiful place. I have so enjoyed living here. It's a small community compared to the big city, but I have the space and time to be with people and enjoy them. I feel like I've really gotten to know people. In the cities people come and go so quickly. Here, people move more slowly. The time is so rich.
What new activity or hobby have you picked up since being here? Cross-country skiing! I also love canoeing. The lakes here are really quiet and beautiful. Even winter canoeing is good on the channel.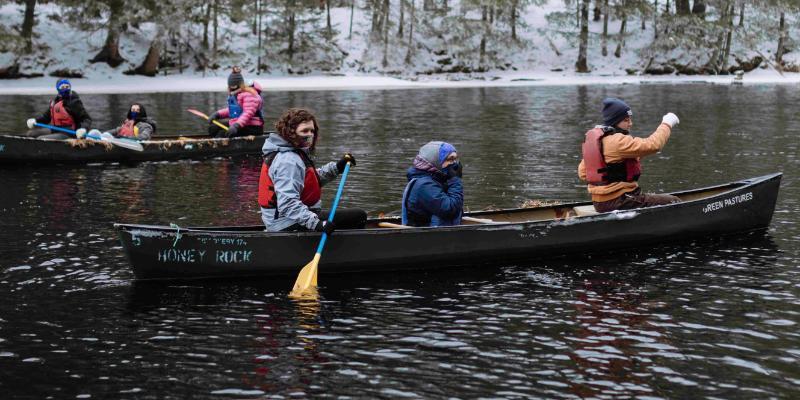 When you're not studying or working, what do you like to do at HoneyRock? Last year I really liked rock climbing and running or hiking in the woods. I've also started cooking more. Cooking is very important for Chinese people, so after a year of being here I started to cook and share it with people. In fact, earlier this year I cooked lunch for HoneyRock with Vanguards to share foods I loved with the community.
Where's your favorite study spot at HoneyRock? Loberg, My apartment!
What questions are you asking right now? For a big part of my life, I had doubts about Jesus. I believe in God the Father, I believe in God the Spirit, but I always have these doubts about Jesus. During the summer I had a revelation from God that told me Jesus is the King. He has authority. He has conquered all. All of the battles I have, Jesus has experienced and conquered it all. With the help of Jesus, I don't have to be afraid. That was a question I was asking at the start of graduate school and feel like I've answered for myself.
Now I'm asking "Why does God not save people when they're in distress?" Last week we read a book Born from Lament: The Theology and Politics of Hope in Africa by Emmanuel Katongole for Ministry in Global Contexts taught by Muhia Karianjahi. It's opened my eyes to how God is always working, He is never silent. He does not use his power or control to change people, but His love. Through disaster and distress, He suffers with His people. My eyes have been opened to the power of lament. We need to lament.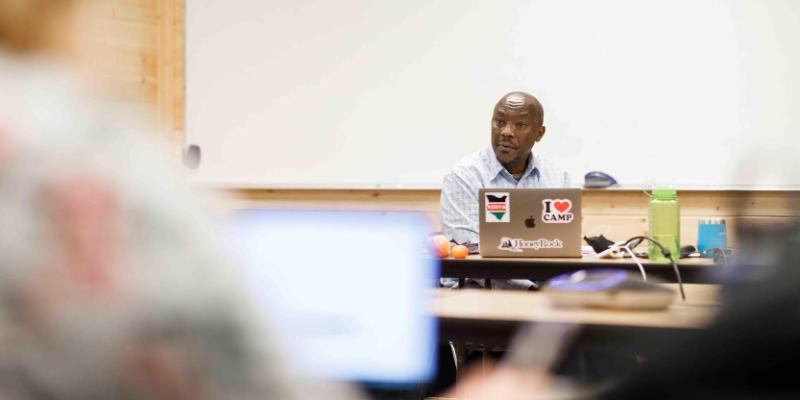 After HoneyRock, what do you dream about doing? I've learned a lot about myself, God, and the other as I have pursued my Outdoor and Adventure Leadership M.A. at Wheaton. I've been drawn more to cultural intelligence development—I've been inspired to develop a curriculum to help people practice cultural intelligence in the outdoor setting. Hopefully I can use my personal experience, coupled with what I've learned in this degree to start it. There's so much more to learn, but I've gained a good foundation here.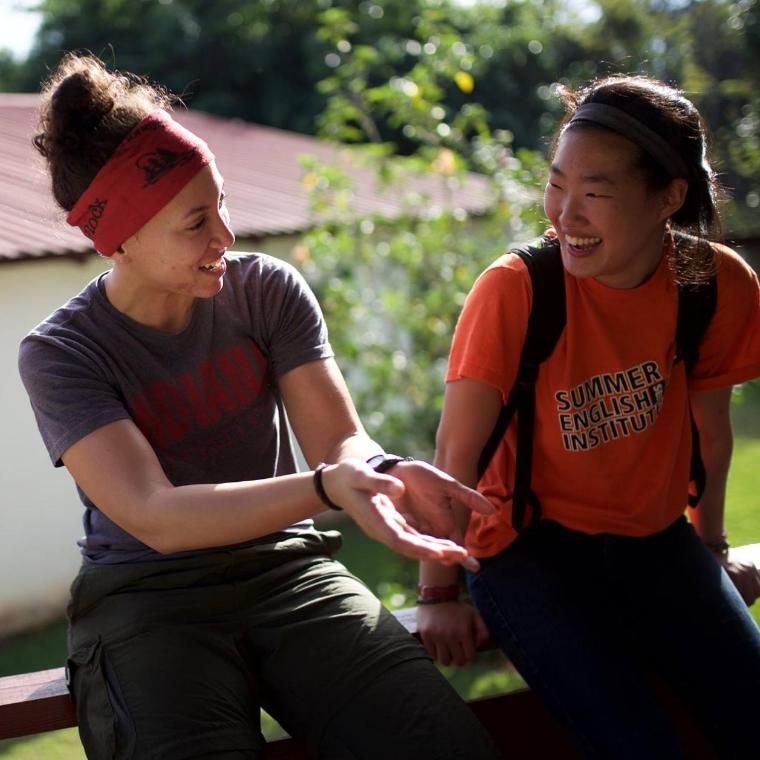 Learn More about the Outdoor and Adventure Leadership M.A.
The M.A. in Outdoor and Adventure Leadership (OAL) program is designed to equip exceptional leaders for Christian formation and ministry in a fast-changing, multicultural world, utilizing experiential learning methods.