CFI's online Integrate conference equips registrants with biblically informed business and strategy, leadership development, and design thinking.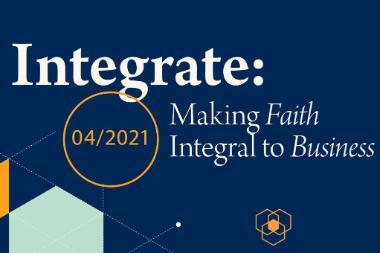 The theme for the Wheaton Center for Faith & Innovation's first-ever Integrate conference is "Making Faith Integral to Business." The conference, which is broken into different tracks, offers certification in one of three faith-based areas—business practices and strategy, design thinking, and leadership development. These three tracks are designed for Christians working in corporate, nonprofit, and church spaces who want to grow their leadership and management skills, while a fourth track is geared to pastors who would like tools for discipling the professionals in their congregations.
The four-day Integrate workshop, to be held virtually from April 22 to 25, is open to the public who are invited to register on the Integrate Conference website.
"Data shows that many professionals achieve their first promotion in their 30s, but their companies don't begin training them until they are in their mid-40s," said CFI Director Dr. Hannah Stolze. "This conference fills in the gap with practical faith-based training."
Registrants will leave the Integrate conference equipped with best practices and practical skills, as well as a certificate of completion, in one of four different tracks:
The Wisdom-Based Business Track draws from Stolze's forthcoming book Wisdom-Based Business: Applying Biblical Principles and Evidence-Based Research for a Purposeful and Profitable Business, which will be released in April 2021. With this track, registrants will learn how to apply the Bible's Wisdom literature to their business plans.
The Faith-Centered Design Thinking Track teaches how to apply innovative design tools to their business problems while keeping social responsibility and community engagement at the center of the process.
The Whole + Intentional Leader Development Track will increase both self-awareness and leadership effectiveness with tools offered through WiLD, a leadership training nonprofit.
The Made to Flourish Pastors Track is offered to those who want to learn how they can better minister to professionals in their congregations.
Stolze will lead some of the sessions as will CFI Managing Director Ben Norquist, CFI Director of Research and Engagement Dr. Paul Lee, and CFI Director of Theological Integration Dr. Keith Johnson. But the conference is also bringing in some voices from outside of the College including Al Erisman, Co-Chair of the Theology of Work Project; Dr. Daniel Hallak and Dr. Rob McKenna from WiLD Leaders, Inc.; Tom Nelson and Paige Wiley from Made to Flourish; Dr. LaDonna Thornton, Professor of Supply Chain Management at Auburn University; and Kristin L. Colber-Baker, Global Director of Diversity, Equity, and Inclusion at Mars, Inc., among others.
"God cares about business—the work that people do 9-to-5, Monday through Friday," Norquist said. "But the faith-and-work movement is largely abstract and conceptual, so this conference is an attempt to bridge from the conceptual into the applied, into the skills."
Ultimately, Stolze explained, the conference is an outgrowth of CFI's mission.
"Our goal with the Center is to come alongside the next generation of Christian business leaders, and we want to do that while they're here at the College in the Innovation Lab," Stolze said. "But we also want to be a resource for lifelong learning—a spot where people can come back and train."
Conference tickets start at $49 for students and pastors and $99 general admission. The Whole + Intentional Leader Development Track, offered through the leadership training nonprofit WiLD, costs an additional $300.
--Emily Bratcher
Register for the Integrate Conference >