Student-driven consulting platform to tackle sticky problems facing Christian businesses and nonprofits.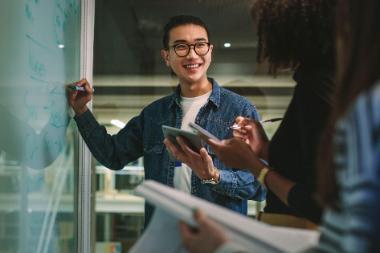 This fall, the Wheaton Center for Faith & Innovation will launch its new CFI iLab, an in-house consulting platform where CFI Innovation Scholars will take on some of the most pressing problems facing Christian businesses and nonprofits. CFI is a full-service research and training institute at Wheaton College dedicated to teaching Christians to apply their faith to questions and issues, ranging from customer retention to problem analysis in the marketplace.
"The iLab offers a really rich opportunity for our students to engage with Christian business leaders," said CFI Managing Director Ben Norquist. "They will be able to roll up their sleeves and do real work with these Christian business leaders, which will give them great marketplace experience."
CFI is currently in the process of finalizing consulting contracts with several businesses and nonprofits, where they will work on everything from market research for new products to business analytics for existing products, programs, and services.
An interdisciplinary group of 22 undergraduate student leaders, who made it through a grueling and competitive application and interview process, will consult on these projects, while also receiving instruction and guidance from CFI staff.
Earlier this month, CFI was awarded a $25,000 matching grant from the Network for Vocation and Undergraduate Education, a partnership of the Council of Independent and the Lilly Endowment, to launch the iLab. The grant will give CFI another $25,000 for the 2022-2023 school year if CFI meets its goal of raising its own $25,000 by summer 2021.
"Getting this money is a huge boost to launching the iLab with the kind of strengths and resources that we've envisioned," said CFI Managing Director Ben Norquist.
"These grants are highly competitive, so this is quite the honor," said Wheaton College Provost Dr. Margaret Diddams. "We are pleased for what this seed money means for CFI and this exciting new initiative that will give our students real-world consulting experience and networking connections."--Emily Bratcher