A duo of Wheaton alumnae—Wendy Gieser Partain '85 and her sister, Susie Gieser Cassel '89—are passionate about helping frontline workers in a fashionable and functional way.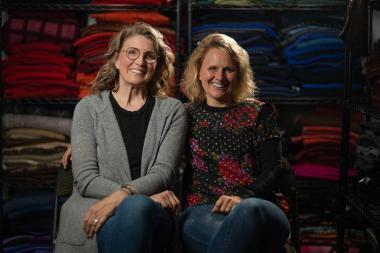 Wendy Gieser Partain '85 and her sister, Susie Gieser Cassel '89, launched LucyBlue Knits in 2007 as a small business dedicated to creating one-of-a-kind mittens and scarves out of repurposed wool sweaters.
"Susie and I grew up making things," Partain said. "Our artist mother provided a world of creative freedom, so early on we learned the joy of finding beauty and wonder in all we do."
As the world rapidly changed due to the outbreak of COVID19, Partain and Cassel switched gears. They wanted to leverage their business to help frontline healthcare workers. So they asked Partain's daughter-in-law, Lauren, who is a nurse at a Chicagoland area hospital, what they could do to help.
She let them know that the elastic from professional-grade face masks often causes ear pain and irritation—especially for frontline workers who work 12-hour shifts with COVID patients.
"She asked if we would create a headband that would hold the mask instead of her ears," Partain said. "We heard the call and dove in."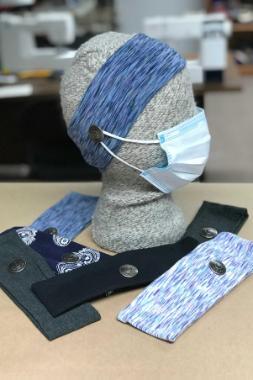 Partain and Cassel immediately began to create "Button Headbands," 3-inch-wide headbands made of soft jersey fabric with buttons on both sides to hold face masks in place. They had 25 headbands for Lauren and her fellow floor nurses ready the next day.
"Since then it has been nonstop headbands, and we are loving the new direction," Partain said. "It has been a privilege to offer a small bit of encouragement and relief to our frontline, healthcare, and essential workers, as well as those who have to wear a mask all day due to health reasons."
LucyBlue Knits has sold over 1,000 headbands on their website to date as Partain and Cassel continue to create, sell, and distribute headbands to frontline healthcare workers worldwide. They have also donated more than 100 headbands since they started.
While Partain is looking forward to when things go back to "normal," she hopes some habits that have developed during this time remain—including long walks, frequent FaceTime and Zoom calls with family and friends, and never taking health for granted.
"I hope we never forget to thank our essential workers, and I hope we remember to encourage and support those who may be hurting," Partain said. "My word of encouragement to the Wheaton family is that God uses all things. He uses the good moments in our lives, and he uses the bad ones."
Partain and Cassel made winter mittens and scarves for 11 years. Then, overnight, their plans changed—to creating button headbands for frontline workers in the midst of a global pandemic.
"Nothing in our lives is wasted," Partain said. "God uses all the pain, rejection, and loss, as well as the victories, to shape us and refine us into something of beauty and worth."
You can follow LucyBlue Knits on Instagram @lucyblue.knits, and visit their website at lucyblueknits.com.
--Allison Althoff Steinke '11