Biblical and Theological Studies professor awarded Calvin University's Meeter Family Research Fellowship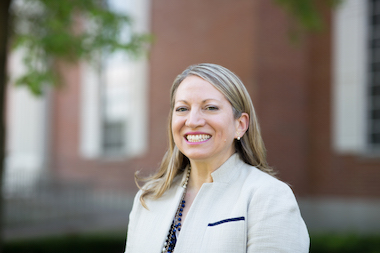 As the daughter of Presbyterian pastors, Franklin S. Dyrness Associate Professor in Biblical and Theological Studies Dr. Jennifer Powell McNutt was raised to hold high regard for the 16th-century pastor and reformer John Calvin. Her interest in Calvin has grown through the years from family dinner-table conversations to scholarly research and academic publications, which is why her recent award of Calvin University's Meeter Family Research Fellowship is so meaningful.
"For John Calvin scholars, there are two main places to do research in the field—Geneva, Switzerland and the H. Henry Meeter Center in Grand Rapids at Calvin University," McNutt said.
McNutt, who conducted her dissertation research in Geneva as part of her Ph.D. program in History at the University of St. Andrews' Reformation Studies Institute, is excited for the opportunity to immerse herself in the Meeter Center's vast collection, which includes access to Calvin's works and the latest scholarship in languages from Latin and French to German and Dutch. She'll use the fellowship to complete research and writing for a book on the social history of Calvin's theology for the Oxford University Press series titled "Christian Theology in Context."
"I have enjoyed attending Meeter Center events for many years, even bringing Wheaton students when I can, and this will be my first time to delve into their vast collection and connect with their first-rate research community," McNutt said. "There's no better place for me to work on this book."
McNutt's six-week fellowship will commence in June 2021, giving her room and board, office space, and access to the archive as well as to other Calvin experts, scholars, and archivists. The fellowship also carries a $3,500 honorarium and includes the opportunity to present her research at the university.
In 2019, McNutt was appointed to the Franklin S. Dyrness Chair in Biblical and Theological Studies at Wheaton, the mission of which is to uphold and advance the historic Reformed tradition. Her work in writing this book is a fulfillment of the mission of this chair.
McNutt who teaches the Calvin course for undergraduate and graduate students at Wheaton is also vice president of the board of trustees for the Calvin Studies Society. Under her leadership, Wheaton College will host the next gathering of the Calvin Studies Society Conference in April 2022. McNutt and her husband, Wheaton College Associate Lecturer of Core Studies Dr. David McNutt, also serve as Presbyterian pastors at First Presbyterian Church of Glen Ellyn as parish associates.--Emily Bratcher