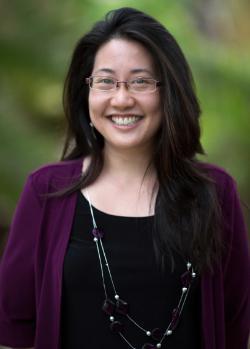 Wheaton College President Philip Ryken announced today the appointment of Dr. Karen An-Hwei Lee as Provost of Wheaton College.
Reporting to the President, Dr. Lee will lead the Senior Academic Leadership Team (SALT), serve on the Senior Administrative Cabinet (SAC), and oversee all aspects of the academic division including—in addition to the faculty—records and services, centers and institutes, global programs and studies, institutional research, library and archives, intercultural engagement, and military science. Dr. Lee will also hold faculty rank as Professor of English. She begins her appointment in August.
Dr. Lee succeeds Provost Margaret Diddams, who announced last year she would be stepping down at the end of June 2020.
Dr. Lee earned her B.A. Magna Cum Laude in English from Brown University. She received an M.F.A. in fiction writing from Brown and an M.A. in English (poetry writing) from the University of California, Berkeley. She earned her Ph.D. in English from the University of California, Berkeley.
"Throughout the interview process Dr. Karen Lee impressed faculty members, staff, administrators, and trustees with her vibrant testimony of faith in Jesus, her grasp of current issues in higher education, her grounding in both science and the humanities, and her infectious love for faculty members and the students they serve," President Ryken said. "Her leadership promises to advance Wheaton's Christ-centered mission by deepening our love for liberal arts learning and broadening the global reach of our diverse community."
Dr. Lee currently serves as Vice Provost of Assessment and Institutional Effectiveness for Point Loma Nazarene University, located in San Diego, California. Among her responsibilities at Point Loma, she provides leadership and oversight for educational effectiveness and program review, coordinates university-wide assessment activities for curricular and co-curricular programming, works closely with faculty and staff to create and distribute the documents necessary for internal decision making and external constituents, and serves as the Accreditation Liaison Officer for the university. Lee previously served as Professor and Chair of the English Department and Director of Educational Effectiveness at Vanguard University in greater Los Angeles.
"I'm honored to support Wheaton's time-honored mission of Christ-centered liberal arts," said Dr. Lee. "It will be a pleasure to serve Wheaton's distinguished faculty and highly accomplished students."
An accomplished poet, fiction writer, literary critic, and translator, Lee is a voting member of the National Book Critics Circle and a recipient of a National Endowment for the Arts Individual Artist's Grant.
"As Wheaton's next provost, Dr. Lee will bring an impressive array of academic leadership experiences, a value-based approach to decision making, and an interpersonally astute leadership style that will serve the academic division well in the challenges that lie ahead," said Search Committee Co-Chair Terri Watson, Dean and Professor of Psychology, Counseling and Family Therapy. "She is a highly accomplished scholar and exceptional communicator who exemplifies Christian liberal arts commitments and values."
Wheaton College is grateful for the work of CarterBaldwin Executive Search, which assisted in the process of identifying and researching candidates.
Located in Wheaton, Illinois, Wheaton College is a coeducational Christian liberal arts college noted for its rigorous academics, integration of faith and learning, and consistent ranking among the top liberal arts colleges in the country. For more information, visit wheaton.edu.