The Humanitarian Disaster Institute at Wheaton College released a new suite of resources for individuals and families discerning when to go back to church services.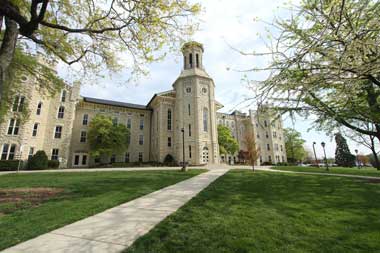 As churches across the country begin to reopen their doors for in-person services, the Humanitarian Disaster Institute (HDI) at Wheaton College released a new suite of resources—including a manual, a checklist, and two decision tree tools—to help individuals and families discern when and how they can safely return to in-person church services. All can be found at reopeningthechurch.com.
"We understand that choosing to gather in person has caused some to experience conflicting emotions and concerns, which is why we have created these resources," said Kent Annan, M.Div., Director of Humanitarian and Disaster Leadership at Wheaton College Graduate School. "They will help you navigate returning to in-person church services by walking you through a biblical and prayerful approach, helping you understand possible risks, and sharing ways to care for yourself and those around you so you can make a faithful, well-informed decision for you and your family during COVID-19."
To help individual church members with a broad overview of what they need to know to make this decision, HDI today released a new manual, Deciding When & How You Should Return to Church In Person: A Practical Guide for Church Members. It provides insight on how to approach reopening prayerfully, move forward Biblically, understand your risks, know if your church is reopening well, return with practical wisdom, love your neighbor while churches reopen, and care for yourself faithfully. In addition, they also released two decision tree tools—one to help individuals consider Should I Be Attending Worship Services at My Church? and one for church leaders on Reopening Our Church for In-Person Services. Also available for download is a Checklist for Church Members Returning to In-Person Services.
"While we all want to be together in person again, it's important to understand the different factors involved in that decision," said Jamie Aten, Ph.D., HDI founder and executive director. "If we gather, we want to do so in a way that doesn't bring unnecessary risk to ourselves or the vulnerable in our community."
Since the start of the COVID-19 pandemic, HDI has worked to equip churches with resources, such as the Preparing Your Church for Coronavirus manual, the COVID-19 Church Online Summit (in partnership with the National Association of Evangelicals) and the Spiritual First Aid Summit (in partnership with Food for the Hungry, NavPress, and Outreach, Inc.), which combined had more than 16,000 registrants from around the world, the Spiritual First Aid manual and resource hub, Reopeningthechurch.com (in partnership with the National Association of Evangelicals), and an ongoing weekly webinar series tackling some of the most pressing issues churches are facing in the wake of a pandemic.
--Laura Leonard