One of the hallmarks of the graduate student experience in the Outdoor and Ministry Leadership program at Wheaton College Graduate School is the applied learning opportunities found at HoneyRock. Explore how coursework intersects with immediate and practical application in OAL 548: Program Planning & Leadership.
A Degree in Outdoor and Adventure Leadership with Applied Learning Opportunities
One of the hallmarks of the graduate student experience in the Outdoor and Ministry Leadership program at Wheaton College Graduate School is the applied learning opportunities found at HoneyRock.
Instead of just attending class, taking notes, and having theoretical conversations, students are immediately empowered to apply their learning to real situations.
In the case of OAL 548 Program Planning & Leadership, students study the process of developing outdoor and adventure-based programs that align with the mission, vision, and values of an organization while serving the identified target groups with meaningful experiences. Following the intensive course work, students build their philosophy of ministry by developing, implementing, and evaluating programs in real ministry settings.
Learning How to Build Transformational Programs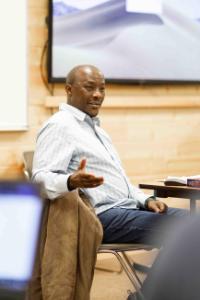 The course is co-led by HoneyRock's Camp Programs Director Ashley Kiley and Dr. Muhia Karianjahi, Assistant Professor of Outdoor and Adventure Leadership and Global Programs Coordinator at HoneyRock. While Kiley brings 10 years of on-the-ground programming experience, Karianjahi offers over 25 years of expertise in spiritual formation through rites of passage and temporary community; global and cross-cultural camp ministry; positive youth development and youth ministry; and experiential and outdoor education.
"The heart of this class", Kiley explains, "is reaching the core of what program planning is about. It's far deeper than scheduling, planning bible studies or games, and managing logistics. To create meaningful experiences that have the potential to transform the way a person sees themselves, others, and God you have to go deeper. From an organizational level you need to know your mission, vision, and core values. On a human development level, you need to understand curriculum levels, stages of spiritual development, and identity formation. At that point, you can start to build a program."
Through the class, students walk through different approaches to program planning. "This isn't just about planning a HoneyRock program," Kiley says, "it's about equipping emerging and established professionals to become excellent program builders for whatever context in which they find themselves."
By exploring cultural values, generational concerns, and developmental lenses students have the tools to design excellent programs wherever they find themselves—college, church, or camp ministry.
Equipping Outdoor and Adventure Professionals for Church, Camp, and College Contexts
Maggie Southerington, a first-year OAL student in the class remarked, "I can't imagine trying to plan a summer camp program without taking this course…I've taken courses that talked about stages of human development, but OAL 548 focused on the stages of spiritual development and how it applies to how we plan programs for summer camp or church education."
The residential OAL students will spend the remainder of their time at HoneyRock implementing what they've learned into the programs they're coordinating at HoneyRock. The flex students have the opportunity to directly apply what they've learned to their current jobs.
When asked about what impresses him about this cohort of graduate students, Karianjahi comments, "They are engaged, curious, and approach what we are learning from such a broad array of backgrounds: Laura from the arts, Will from anthropology, and Kayle from human development, to name a few. Their insights are amazing—I am excited to see how they push the outdoor and adventure field forward in college, camp, and church contexts!"
---
Meet HoneyRock Graduate Students
Tap the photo to read their stories!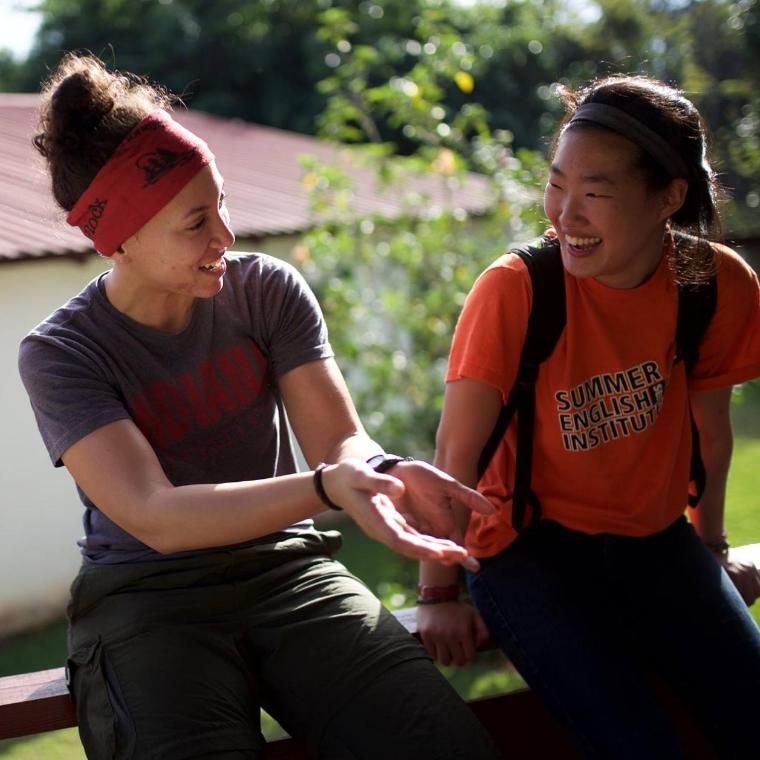 Learn More about the Outdoor and Adventure Leadership M.A.
The M.A. in Outdoor and Adventure Leadership (OAL) program is designed to equip exceptional leaders for Christian formation and ministry in a fast-changing, multicultural world, utilizing experiential learning methods.