Where are the Women? 2021 is going virtual this year. The conference is open to Wheaton students, staff, faculty, and alumni.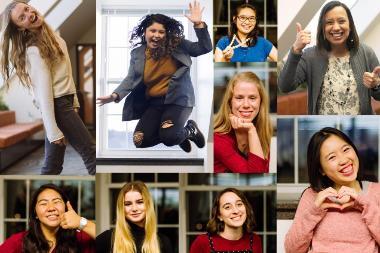 The third annual Where are the Women? 2021 conference kicks off on Monday, February 22 with a special chapel service; conference sessions begin on Wednesday, February 24. Each spring, since the conference's inception in 2019, a committee of Wheaton students has brought together the College community to discuss faith and womanhood. The theme for this year's free conference is "Belonging," which explores how women can thrive in their bodies, communities, and workplaces. Due to COVID-19, this year's event will be hosted almost entirely online.
The conference is open to all Wheaton College students, staff, faculty, and alumni who are invited to register and learn more online about the free Where are the Women? 2021 conference. Sign up today to pick up a complimentary gathering kit.
"It's hard to imagine a time when this conversation would be more relevant than it is today," said WAW communications director Katie Gienapp, who is also an undergraduate at Wheaton. "This conference hopes to address some of the injustices that are pervasive within our communities and how we, as women, navigate our God-sanctioned place amidst these challenges. We will explore how embodied women can thrive within their given communities, and by so doing, build shalom in God's kingdom here on earth."
Chief Intercultural Engagement Officer Dr. Sheila Caldwell, Provost Dr. Karen An-Hwei Lee, and Franklin S. Dyrness Associate Professor in Biblical and Theological Studies Dr. Jennifer Powell McNutt are just a few of the 25 speakers and panelists featured in this year's conference. Guest speakers this year include Sandra Maria Van Opstal, a Chicago pastor; Nikki Toyama-Szeto, the executive director Christians for Social Action; Kathy Khang, a Christian writer and speaker; and Dr. Jacqueline Ogega, the director of gender equality and social inclusion at World Vision.
The speakers will address topics like women in leadership and academia, belonging within a tapestry of relationships, and corporate Christian identity and social action. A handful of virtual coffee hours will cover topics that include the arts, research, and publishing. The conference will also devote a session to gender-based violence in faith communities.
Due to COVID-19, most of the conference will be virtual, except for the opening hybrid session titled "Women in Academia and Leadership: A Sense of Belonging." To promote a sense of togetherness, WAW organizers have created gathering kits designed to be shared with a roommate, friend, or significant other. Each free kit contains conference materials for two participants and will be available for registrants in the Wheaton College community to pick up on campus.
The first Where are the Women? conference, held in 2019, was born out of a 2017 conversation between Human Needs and Global Resources student Camille Frey and Theology Professor Dr. George Kalantzis. While interning in Zambia, Frey had noticed a discrepancy between the large percentage of women in church in Zambia and the small percentage of women in leadership positions within the church--and she voiced her observation to Kalantzis. She wondered if the same discrepancy was true at Wheaton and across the U.S.—a question that led her and a team of other Wheaton students to organize the first ever Where are the Women? conference, a meeting devoted to discussing women in theology and the church. Last year, in 2020, the conference—again organized by Wheaton students—broadened its focus to explore gendered realities within relationships and the workplace.
"This year, similar to the last few years, we hope that students, staff, faculty, alumni, men, and women walk away from the conference more courageous, more inspired, and also more challenged," said program director Joy Lee, who is also a graduate student in the Humanitarian and Disaster Leadership program.
--Emily Bratcher