Contributors to the festschrift were all former students of Dr. John Walton.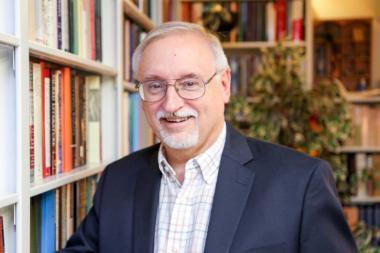 When speaking with Dr. John Walton, it's quite clear where his interests lie. Yes, he's passionate about his work as a professor of Old Testament in the Biblical and Theological Studies department at Wheaton College, where he mostly teaches graduate-level courses, but it's his students to whom he devotes even more time and attention.
"To me, the great honor that I feel is because of the students who have so distinguished themselves and still we're in touch and interacting. It's just a tremendous bunch," said Walton M.A. '75.
And last year, his former students gave some of that time and attention back in the form of a festschrift— a collection of essays traditionally published in honor of a scholar. The collection, For Us, but Not to Us, includes essays from two of Walton's sons, one of whom also created the festschrift's cover art.
"It's quite an honor to be able to have something like this happen," Walton said. "A festschrift is something that's reserved for people who have really become established and recognized scholars. I was overwhelmed."
For Us, but Not to Us is a collection of essays based on three central themes of Walton's work: creation, covenant, and context. Each contributor crafted an essay that fit into one of the themes.
"The essays are from women and men who have gone on to train in biblical and theological studies, but in a wide variety of associated disciplines," explained co-editor and Wheaton College Associate Professor of Archaeology Adam Miglio M.A. '01. "Everyone contributed according to their expertise but did so in a way that their essays reflected methods or contributions from John in their own intellectual life."
Walton is an established and well-recognized scholar in his field, in part due to teaching for the past 40 years. His interpretations of the Old Testament are often untraditional, but Walton insists that he's never created work with that intention. "I don't revel in being iconoclastic or anything like that. It's just as I study things more closely, I realize that these days, we have a lot more information at our disposal than people had in the past, and if we apply that information, it sometimes brings us to different conclusions," Walton said.
Beyond the classroom, Walton's studies have taken the shape of more than 30 books published during the span of his career in higher education.
"When I think of myself as a professor, my legacy is not in the books I leave behind. My legacy is in the students I train," Walton said. "Whatever I've been able to teach my students, they then teach their students, and they teach their students. The legacy is in the students."
These students, specifically those who contributed to the festschrift, span multiple disciplines and are scattered across the globe. Although Walton teaches undergraduate and master's students—not doctoral students—most of the alumni represented as essayists in the festschrift have their Ph.D.'s in Biblical and theological studies or related fields and are currently teaching.
"John is a very creative thinker, and his classes were always an invitation to think with him," said Miglio, who now has an office adjacent to his former professor. Miglio recalled that Walton's classes would often be structured as workshops, where he would play around with new ideas and concepts that he was thinking about. "His classes were his invitation to reflect with him on whether these ideas worked or if they needed to be tweaked or abandoned. For an undergraduate student, that was an invigorating experience. There was a sense in which you felt that he was taking you seriously."
For Caryn Reeder M.A. '03, Professor of New Testament at Westmont College and one of the co-editors of the festschrift, this support and encouragement also took the form of advocacy for women in the field of biblical studies. "He's not just a verbal support; he's someone who really advocates for his students, and he gets invested in his students. You can see that in the relationships he has built up over the years," Reeder said.
In addition to his impact on students in the classroom, Walton has brought his students together in other settings. One of Walton's fondest memories of being a professor is his weekly advisee lunch, an idea he began many years ago with just the students he was advising at the time. If they wanted to join him for lunch on Wednesdays, they could come and chat—about whatever topic arose. Eventually, the lunch morphed into whoever wanted to stop by, whether they were advisees of Walton's or not.
In the same fashion, each year at the Society of Biblical Literature conference, Walton hosts a breakfast for his former students. This annual gathering of whoever might be in attendance that year began in the late 90s, and the group has grown since—including mostly Wheaton College graduates but also students from Walton's 20 years at Moody Bible Institute. This network of students, scholars, and alumni-turned-professors has grown to nearly three dozen people. They help each other with graduate school admissions, landing that first job, or just talking about being a student of Walton.
"There's a camaraderie and almost an identity fashioned around being a student of John's because he's fostered it so well," Miglio said.
And the interest is genuine. Walton repeatedly stated his joy of keeping in touch with former students, learning about their triumphs and progress, and helping when he can.
"John is always so excited to see us. He just beams when we get together at the annual breakfast and talk about our different accomplishments," Reeder said. "We wanted to really give some of that back to him, to honor him for the ways that he has honored us over the years. He's so kind, so generous, so passionate."
--Alex Shimalla