The granite and bronze bas relief captures the Center's mission of serving and ministering to others through music.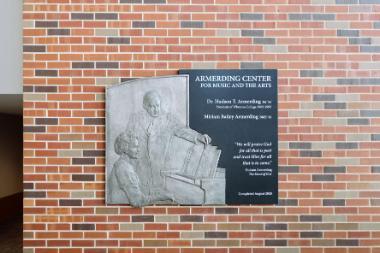 When you enter the expansive lobby of the Armerding Center for Music and the Arts, you'll see natural light spilling through its tall floor-to-ceiling windows and across a glittering granite and bronze bas relief hanging from an interior brick wall.
The installation depicts the building's namesake--Wheaton College President Emeritus Dr. Hudson T. Armerding '41—and his wife Miriam Bailey Armerding at a piano. Miriam, a 1942 graduate of Wheaton's Conservatory, is seated at the piano while her husband turns the pages of her music.
"I think it tells an inspiring story that speaks to President Armerding's humble leadership," said Dean of the Conservatory of Music and Division of Arts and Communication Dr. Michael Wilder. "It nods to the larger story of what God has done for us and the opportunity that we now have of serving and ministering to others in humility through music."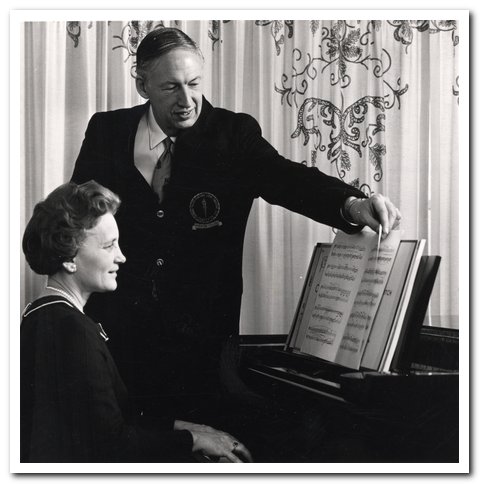 The inspiration for the 43-by-56-inch relief came from an image Wheaton College Alumni Association Executive Director Cindra Stackhouse Taetzsch '82 found in Wheaton 150, a book created for the College's sesquicentennial in 2010.
"Every member of the committee and Dr. Ryken resonated with the image of the Armerdings at the piano," said Special Assistant to the President Marilee Melvin '72. Melvin was part of a seven-person committee tasked with figuring out a meaningful way to honor Dr. Armerding within the building.
"The photo is so perfect for this building but even more so because it exemplifies for us all a humble service to each other," said College Architect Bruce Koenigsberg, who was also on the committee. "In such a divisive culture, this message shines with God's brilliant glory that the only way to live with others is by putting them before ourselves."
Alumnus Clay Enoch '95, who also created the "Let's Roll" bas relief in the Todd M. Beamer Center, was commissioned to translate the photo to granite and bronze, which he treated with a silver nitrate patina to complement the lobby's silver color palette.
Wheaton's Facilities team installed the bas relief in early January 2021, and Dean Wilder marvels at the way it has already come to exemplify the Armerding Center's mission.
"Music is this amazing connector between people," he said. "The posture of the image—President Armerding serving and ministering with Miriam—is what we hope this building does for our students, faculty, staff, alumni, and audience members for the glory of God in the service of Christ."
--Emily Bratcher