The M.A. in Clinical Mental Health Counseling's graduating cohort has achieved a 100% pass rate for the national licensure exam for the past three years.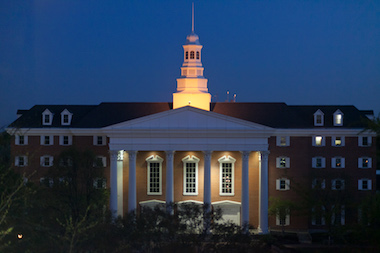 For the third straight year, the master's students in Wheaton College's M.A. in Clinical Mental Health Counseling program have achieved a 100% pass rate on the National Counselor Examination (NCE).
"The exam is a rite of passage for most state licensing boards," explained Dr. Tammy Schultz, Professor of Counseling and the Clinical Mental Health Counseling Training Coordinator. "It's designed to show that the clinician meets the highest standards of professional preparation, knowledge and skill."
Wheaton's high pass rate is in part due to its one credit hour course designed and launched three years ago solely for the purpose of exam preparation. Schultz, who leads the course, guides student in practice questions and relaxation techniques. "In every class, I want them to do the best they can, but I also want them to know that they're not going to be loved more by God if they pass or don't, and I mean that sincerely. I want them to do well and to help them do well, but also to know that their value is not dependent on that—that's the whole education model," she said.
Although passing this national licensure exam may open the door for the students to pursue careers in clinical mental health counseling or earn a doctorate, the program itself provides conceptual knowledge and practical skills to succeed along with a framework for integrating their faith.
"If students come to our Wheaton Clinical Mental Health Counseling Program, they're going to be trained well," Schultz said. "But we also want them to learn how to integrate their faith in how they sit with people."
Apply Today! The application deadline for the M.A. in Clinical Mental Health Counseling is coming up on March 1. You can start your application here.
Learn More: The Clinical Mental Health Counseling Program together with the Humanitarian Disaster Institute began offering a Trauma Certificate this past fall for students currently enrolled or who have graduated from a mental-health-related program. The certificate aims to equip students and alumni who are now practitioners in their fields with a greater knowledge of trauma and how to treat it.
-- Alexandra Shimalla