Wheaton graduate student Amy Jin recently won two awards for her creative writing.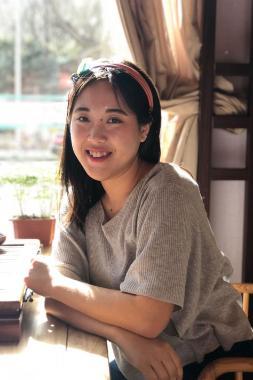 Writing has kept Wheaton College Graduate School student Amy Jin busy during the pandemic, and her hard work has paid off. This year, Jin, who hails from Beijing, China, won not only the 2020 Yage Prize for Christian Literature & Arts from Duke Initiatives in Theology for her short story titled "New City" and the Arts, but also the Genesis Award in Literature from the Chuang-Wen Taiwanese Christian literary ministry for another short story titled "The Slave Who Received Grace." We spoke to Jin about her creative writing process, her experience at Wheaton, and her inspiration behind these two award-winning short stories.
What brought you to Wheaton?
I'm originally from China. I did my undergrad at Gordon College, where I met my favorite professor Dr. Amy Hughes M.A. '08, Ph.D. '13 who actually graduated from Wheaton. During her class, I learned so much about patristics and the theology of the Middle Ages, and it really made me curious and want to learn and study more. Later I went to Israel with a program at Jerusalem University College, and there I learned the history of the orthodox church and that really inspired me to dig deeper into historical theology. Dr. Hughes told me I should consider the M.A. in Theology with an emphasis in Historical Theology program at Wheaton.
When did you start writing?
I've always really loved writing, and I especially liked writing fiction. I wrote a lot in middle school but stopped in high school when I got really busy. In college, I was actually an English Literature major with a Creative Writing concentration but later switched to a Biblical Studies major after a period of struggling with my faith. Although I grew up in a Christian home, I never thought about my faith personally until college. One semester, Gordon College asked students to participate in a spiritual fast. There was really nothing for me to do except read the Bible, and during that time I realized how important God was to my life—and that I wanted to study more about him. But after switching majors, I thought I would never be a writer again until these competitions happened—and I realized that God has always remembered the little dream I had of writing.
What was your inspiration for your first story "The Slave Who Received Grace?" which won the Arts and the Genesis Award in Literature from the Chuang-Wen Taiwanese Christian literary ministry?
I got inspired in part by Dr. George Kalantzis' class "Historical Theology: Patristic." In one of his classes, Dr. Kalantzis' was talking about slavery in the Roman period—and particularly the slave Onesimus. He briefly mentioned the difficulties he would've faced as a leader and later he became a martyr. And that made me remember a novel I read in my early childhood about the story of Onesimus, but it ended with Onesimus carrying the Paul's letter to the house of Philemon, but it actually didn't talk much about how he was treated or how he was received. In Dr. Jennifer Powell McNutt's "Historical Theology: Reformation" class, we talked about how being a Christian is not simply holding one's faith to oneself, but acting out what one believes, which is then witnessed by one's neighbors. This also caused me to consider Onesimus: His faith would be questioned and challenged, and he could not prove his sincerity and faithfulness except through his actions toward others. These are some of the ideas that my short story explores.
Tell us about the inspiration behind "New City," which won the 2020 Yage Prize for Christian Literature & Arts from Duke Initiatives in Theology.
Again, it was Dr. Kalantzis. In his class, He was talking about Basil of Caesarea and the Basiliad that he built. [Basil of Caesarea—or Basil the Great, as he was also known—was a fourth-century bishop in modern-day Turkey who established the Basiliad, a communal complex to care for the poor]. The Basiliad was a place where Christians chose to live poorly so that others could live. In this story, I took the perspective of a beggar who heard about "New City" [as the Basiliad was also referred to] being built by Basil, went to the city, met the monks, and eventually met Basil, and in his conversations with the monks and with Basil, he eventually found Christ.
Can you tell us about your writing process?
It always took me longer to think than write. I had been thinking a lot about both of the stories during the semester and thankfully both competitions had due dates during summer 2020. So, I basically crammed all of my research during school breaks, and then spent the semester thinking, and this summer I got to finally sit down and write. I wrote each story in one sitting. Both are about 6,000 words in Mandarin. And after I finished writing them, I would send them to my parents because my dad is a pastor and asked if they had suggestions on improving my writing or theology, and I would edit the stories based on their insights.
What do you hope your readers take away from your short stories?
With "New City," I think it's important for people to learn the stories of those in the Christian faith like Basil who sacrificed everything for Christ. I think it's a good reminder too for Christians to be thinking about how we can help others financially, as well as spiritually, especially during this time of pandemic. With "The Slave Who Received Grace," I hope it causes people to think about how they receive others into the church, especially those who might've been rejected by society like Onesimus.