In this Q&A post, you'll get to know Kirstin Crawford, Outdoor and Adventure Leadership M.A. '21, as she reflects on parts of her HoneyRock and Wheaton College Graduate School experience so far.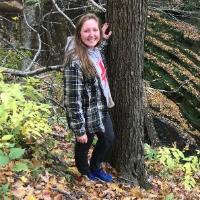 Where are you from? Indiana!
What new activity or hobby (if any) have you picked up since being here? Whitewater kayaking is something I had never done. I went on my first trip with Charlie Goeke last summer and it ended up being a pretty intense trip, but I enjoyed it overall. I went on a few more this fall and felt like I had really improved and grown in confidence.
I've had a dream to waterski my entire life. I got here and learned my first summer. And then Korey Gregornik convinced me to try barefooting and was able to do that. It was awesome to learn the whole progression of skills in two summers.

I'd never gone downhill or cross-country skiing, and have been able to do that as well. Also outdoor climbing…basically, there's been a lot of new activities!
What is your favorite thing about living in the Northwoods of Wisconsin? Honestly, the snow. Living in Indiana, it gets cold but we just don't get enough consistent snowfall to do fun stuff. Here winter is so fun. For the first time in my life I've been looking forward to it.
Before HoneyRock, what were you doing? I was in college and took a fifth year—that final year felt a bit like a gap year as I was living off-campus and figuring out what I wanted to do with my life. For most of my college career, I was pursuing a nursing degree but decided it wasn't what I wanted to do. After a lot of major changes, I graduated with a psychology degree.
Why the Outdoor and Adventure Leadership M.A.? On the trip I was just on with Vanguards, I was asked me the same question! Why did I pursue outdoor ministry instead of "regular" ministry, was the exact question.

The biggest reason is that all through college I was working at a camp. It was really the highlight of my year. I found the community I never really found in college and loved my work there more than anything else. Yes, there were summers that were really hard and challenging, demanding times. You're working way more than 40 hours a week. But there's such power in having tangible ways to learn about and grow your faith. Currently, at HoneyRock my Graduate Assistant role is Activities Coordinator and it's been the best way for me to learn. It's a thing that I can physically do and find so many parallels to my walk with the Lord—that's very powerful. It's something I want to share with others.

My favorite tool for learning is what outdoor adventure allows. It's not easy. It pushes you out of your comfort zone and into new levels of learning.
When you're not studying or working, what do you like to do at HoneyRock? In the winter I do a lot of cross-country skiing and indoor climbing—those are my two favorite winter activities. HoneyRock has a small gym so I spend an hour or so working out a day. I go trail running in the fall. In the summer I like to be doing anything in or around the water—waterskiing especially. I love hanging out with the people here.
What's one interesting or intriguing thing you have learned recently? During a recent climbing trip some of us got to help Mike Odberg set up the outdoor climbs. There's an opportunity to participate in a course this spring that would get us certified in top-rope climbing systems—this was an opportunity for me to check out what that would look like. It was an awesome experience. I want to keep climbing after I graduate!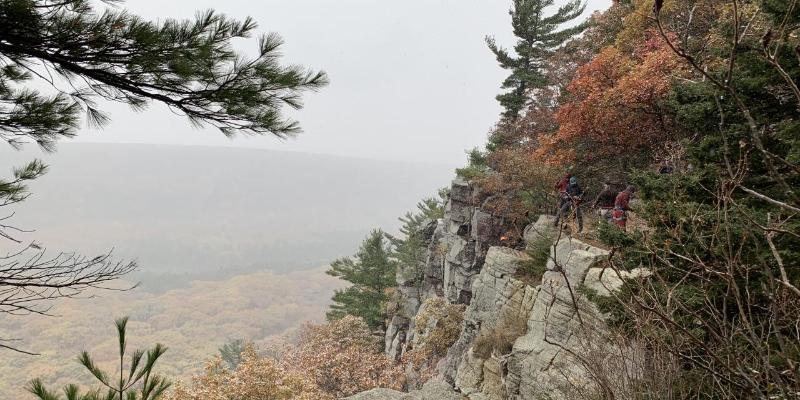 Where's your favorite study spot at HoneyRock? My house! Sometimes if I'm really feeling focused I'll work in my room but most times I'll sit at my kitchen table.
What questions are you asking right now? A big question that's come up with one of my classes this semester (Wilderness Programming and Leadership) how to lead a group that has such different levels of comfort in the wilderness and willingness to push themselves.

I've had an experience where I was leading a trip with a super-fast and super-slow hiker. Typically, you physically cater to the slowest person—that's standard etiquette. But how do you also serve the super-fast hiker and help challenge them to keep them engaged, to not check out? You can draw this out into a bigger question. We want to be inclusive to a lot of different kinds of people in wilderness ministry—how do we do that well?

Recently, another graduate student and I were talking about how to guide people through really difficult and painful times. Some of the questions that came up were things like…
How do you encourage them when the way that they process through difficult experiences is so different from my own?
How do you best guide and support people through unforgiveness or pain without projecting your experience or process on them?
What does an active role in this look like?
Then, I just have to say it. As a second-year graduate student, the biggest question on my mind is what I'll be doing in nine months. My core won't change, but how I live out who I am and what I'm passionate about might need to shift as I look for a job.
After HoneyRock, what do you dream about doing? I think my dream job is doing something really similar to what I'm doing right now, full-time. I'd love to oversee activity areas and high ropes systems at a camp while working with college students. I've been drawn to wilderness programming as well—coordinating trips. I love bringing together leadership development and discipleship together. That's the ultimate job.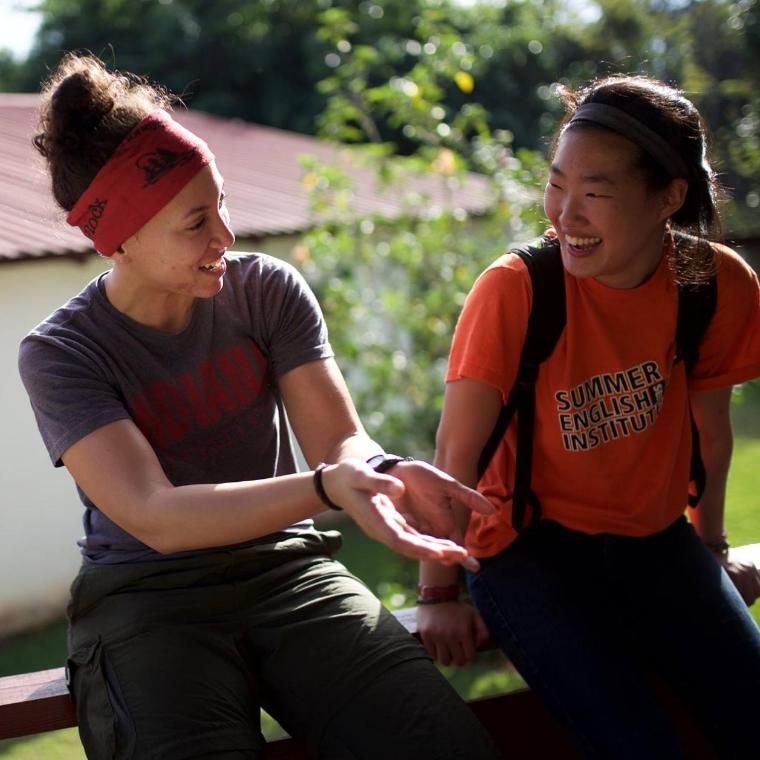 Learn More about the Outdoor and Adventure Leadership M.A.
The M.A. in Outdoor and Adventure Leadership (OAL) program is designed to equip exceptional leaders for Christian formation and ministry in a fast-changing, multicultural world, utilizing experiential learning methods.