Wheaton's new garden produced much more than vegetables.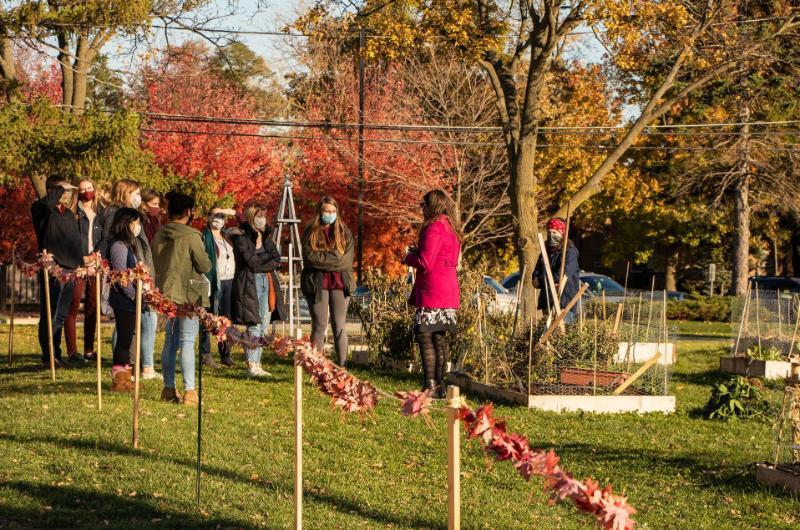 Wheaton College's Student Government Sustainability VP Emma Riddle hosted a garden party at the end of October. Donning masks and adhering to COVID-Safe social distance guidelines, she and the rest of the sustainability committee welcomed small numbers of students in shifts to the new garden that had sprouted up in 16 raised beds on the south side of the Meyer Science Center.
A culmination of six months of work and collaboration, the party was also a celebration of the garden which yielded produce, community, and a research project that later won an honorable mention award in the science division's poster presentation competition.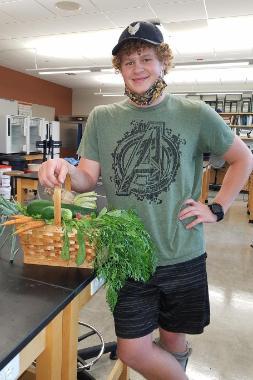 The garden is a result of a Bon Appetit grant pursued by the students and their faculty advisor Assistant Professor of Geology Dr. Kathryn Maneiro and the cultivation of Biology Professor Dr. Nadine Folino Rorem and student Luke Gentry, who was completing a research project as part of the Wheaton College Summer Research Program.
For 10 weeks in the summer, Rorem and Gentry tended the garden nearly every day, caring for the tomatoes, carrots, radishes, scallions, and other vegetables. But it was the pepper plants that held the most interest for Gentry. He was researching the potential differences between immature green pepper plants that were inoculated with microbial growth enhancement solution and others that weren't, as part of the Wheaton College Summer Research Program.
"The experiment was important for the program, but getting the garden established was a historical moment," Rorem said. "It was cool for both of us to realize that we were starting something that is going to continue."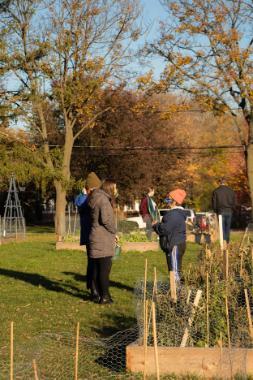 The garden also yielded box after box of fresh produce that was donated to the People's Resource Center's food bank located just a few blocks from the College. It also garnered interest from community members, who would see the garden on their jogs and on walks across campus. On one occasion, someone stopped and initiated a spiritual conversation with Gentry.
"It's really a community outreach in terms of its very presence, so we worked really hard to keep it looking well," Rorem said.
Moving forward, Rorem is collaborating with Maneiro and student leader Lauren Jenkins on turning the garden and surrounding prairie into a student club.
"We'd like the whole area to be an invitation of space and place for students to learn," Rorem said.—Emily Bratcher