Timothy Larsen has received the Doctor of Divinity from the University of Edinburgh.

Photo credit: Tony Hughes Photography
It's a little-known fact that there's a degree higher than a traditional PhD. In fact, even though Timothy Larsen knew it existed at some of the older, more prestigious universities in the United Kingdom, he certainly never thought that it would be awarded to him.
"It's a quirky little niche of a degree," said Larsen, Carolyn and Fred McManis Professor of Christian Thought at Wheaton College. "I was trying to keep my hopes down, so I can't believe it worked out."
However, a quick glance at Larsen's CV—the list of book titles he's written and edited as well as the sheer volume of fellowships he's been awarded—says otherwise: It is no wonder he was awarded such a high honor.
The Doctor of Divinity at the University of Edinburgh, in Scotland, is awarded to scholars of theology who have "achieved international eminence in their field," explained Stewart J. Brown, Professor of Ecclesiastical History at the University of Edinburgh. "It is a high and rare distinction."
Larsen, who works at the intersection of history and theology, received the Doctor of Divinity in Historical Theology after a panel of scholars reviewed his submission of four books to represent what he's done during his career thus far. They also reviewed a paper that Larsen wrote signifying the importance of his selection. The panel consisted of two external examiners, individuals from universities outside of the University of Edinburgh, as well as one internal reviewer. The reviewers were highly distinguished senior scholar-teachers in their fields, explained Brown.
"Professor Timothy Larsen is an immensely productive historian of religion and culture in modern Britain, especially during the nineteenth century. His many publications have been characterized by thorough research, analytical power, intellectual rigor, original interpretations, and a clear and engaging literary style. In the past two decades, he has established himself as one of the world's leading historians of religion, especially historical theology, in modern Britain," said Brown.
Each book that was submitted for review represents three to four years of solitary, hard work and research, said Larsen. "It's really wonderful to have somebody read it and know that it makes a valuable contribution and be able to formalize it with an honor like this," he continued.
"Dr. Larsen's intellectual interests are representative of Wheaton's commitment to disciplinary expertise within the settling of the liberal arts. He raises the public academic profile of Wheaton College," said David Lauber, Associate Professor of Theology and Dean of the School of Biblical and Theological Studies. "Dr. Larsen embodies Wheaton's commitment to faithful Christian discipleship, dedicated teaching and mentoring, and distinguished scholarship. He is a model to Wheaton faculty members."
Interestingly, the theological aspect of Larsen's academic scholarship was one that he came to almost by accident. As a graduate student at Wheaton, Larsen wanted to complete his master's degree with a particular mentor, but in order to do so, his only option was to complete an advanced degree in theology. Although initially he pursued this area of study out of necessity, Larsen affirms that today his fellow theology and biblical studies faculty members' achievements continue to inspire and invigorate him to push forward in his own studies and research. "In all honesty, in my personal assessment, the School of Biblical and Theological Studies at Wheaton College is one of the strongest and best teams in the world," said Larsen.
Larsen is happy to share the benefits of the expansion of his academic network through this distinction with his students. Because his letters of recommendation carry more weight, he said, his network becomes his students' network.
"This degree is truly wonderful and something I never expected or imagined would happen," said Larsen. "It's very affirming of all the things I've been trying to do over the past few decades." --Alexandra Shimalla
---
Dr. Timothy Larsen has been a faculty member at Wheaton College since 2002. He is a Professor of Theology and Carolyn and Fred McManis Professor of Christian Thought in the Wheaton College Graduate School. Larsen is also the director of Wheaton's Faith and Learning Program, which guides new tenured faculty members in their pursuit of combining their area of research with Christian thoughts and ideas. Larsen received both his bachelor's degree in history and a master's degree in theology from Wheaton College. He holds a doctorate in history from the University of Stirling, Scotland, and a Doctor of Divinity in historical theology from the University of Edinburgh. Larsen has also been a visiting fellow and scholar at many prestigious institutions, such as Trinity College, Cambridge University, and All Souls College, Oxford University. His most recent fellowship opportunity will be at Christ Church, Oxford University, in 2021 as a Fowler Hamilton Visiting Research Fellow. He is the author and editor of numerous academic and scholarly works. Most recently, he served as editor for the Oxford Handbook to Christmas, released in November 2020.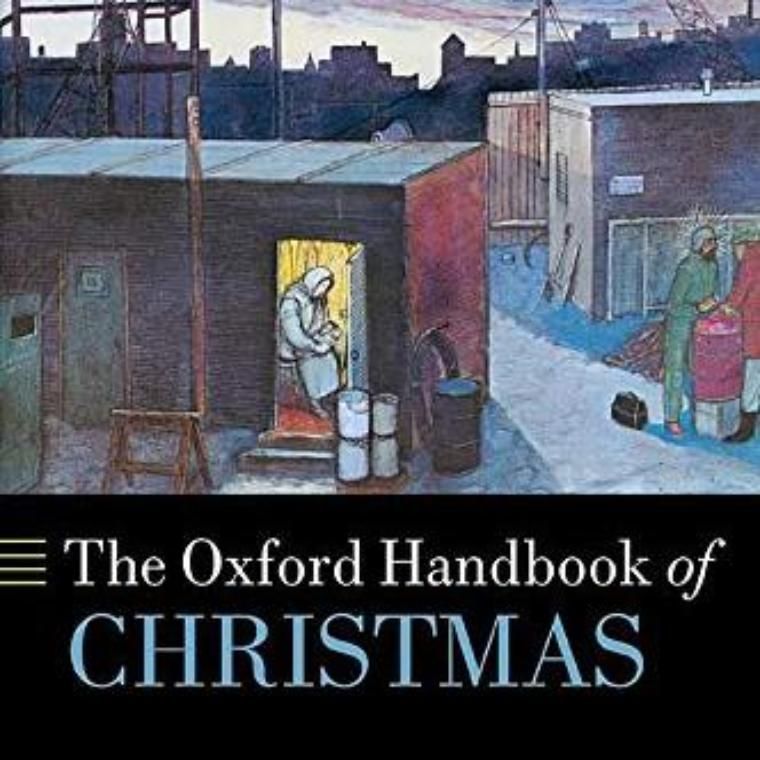 About the Oxford Handbook of Christmas
The Oxford Handbook of Christmas provides a comprehensive, interdisciplinary account of all aspects of Christmas across the globe, from the specifically religious to the purely cultural.