Two departments come together amid COVID-19 to create a colorful mural for the Language Resource Center in Wheaton's Wyngarden Hall.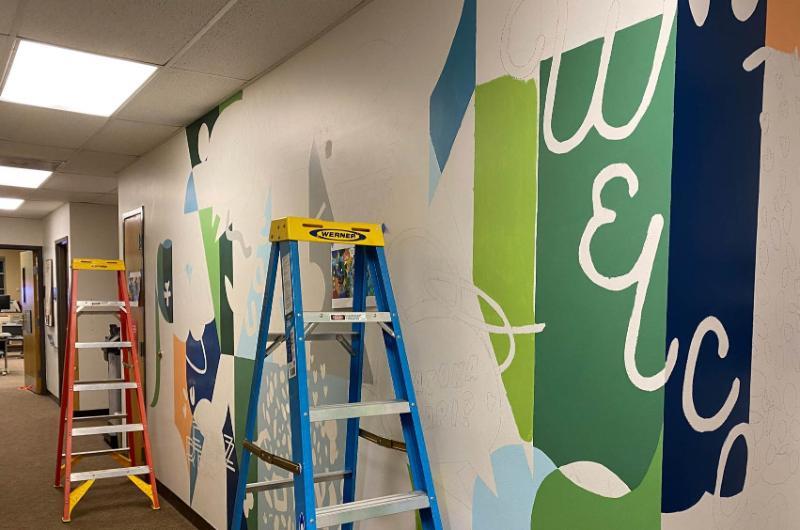 What does community art look like during a pandemic?
It wasn't a theoretical question for new art professor Kaye Patton, who was teaching Community Art 1 this semester at Wheaton College. Masks and social distance would make collaborating on art for the benefit of community challenging.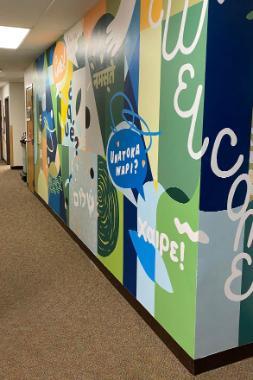 But conversations with her colleague Dr. Arielle Akines, the new director of the College's Language Resource Center (LRC), inspired them.
Akines' vision for the newly revitalized Center, located in Wyngarden Hall, included using language as a tool for building an atmosphere of creativity, collaboration, and community on campus. "Our mission is to edify the body of Christ through collaborative language practice and cross-cultural engagement," Akines said. "The LRC takes a holistic approach to welcome, engage, and inspire members of the Wheaton College community and beyond on the path to language acquisition and cultural awareness."
At the same time, Patton's art class was exploring the idea of "placemaking," a concept that involves creating quality places for people to live, work, play, and learn.
"As both of our goals did not specifically stop at 'art making' or 'language learning' but rather expand and evolve into the realm of community formation and connection, we realized it was an exciting way to come together and collaborate across departments," Patton said.
Students and faculty discovered that creating the mural provided community during a semester that had limited social opportunities due to COVID safety precautions.
Dream & Brainstorm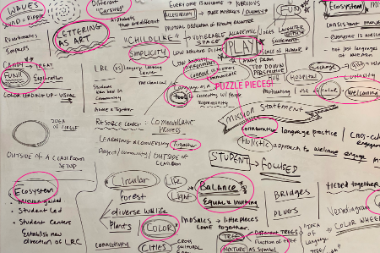 In late fall, Dr. Akines visited Patton's Community Art Class and engaged the students in a brainstorming session—or disruption session, as they called it—about how the mural might encapsulate the LRC's mission of edifying the body of Christ through collaborative language practice and cross-cultural engagement. Patton inked their ideas onto a giant whiteboard, where words like ecosystem, fun, safe, waves, accessibility, and cursives emerged.
"This collaborative brainstorming naturally led us to realize the attributes of what creates a quality place," Patton said. "Students also realized how ideas of low anxiety, play, exploration, non-judgement—or vulnerability—are crucial when learning a language."
Sketch & Present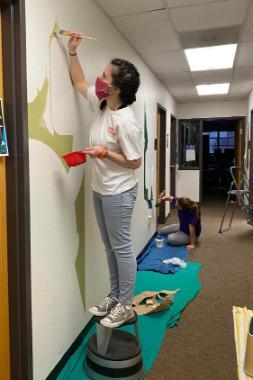 Students then worked on translating these words to art. With the word "ecosystem" as their driving design, Patton tasked the students with researching interesting organic shapes found throughout the world—gingko leaves and lotus flowers, for instance.
Their final proposal included bright colors and fun shapes aimed at encouraging students to fully engage in the language-learning process. Words strewn throughout the mural in different languages represent questions or phrases student might actually say—"hello" and "what did you say?" among others.
Trace & Paint
Next came the hard work of bringing their idea to life. Since the space in the Wyngarden Hall was tight, Patton taught the students a method of projecting their design on two giant pieces of paper, tracing it on the paper, and then poking holes along their traced lines. They then taped the paper to the walls and used Sharpie pens to mark dots through the poked holes, which they used as guides for painting the murals.
With just two weeks until campus closed for the semester, the class worked in shifts to complete the mural. Dr. Akines and other faculty from Modern and Classical Languages helped out as well.
Abby Walhout, a junior in the class, described the design, preparation, and painting of the mural as "incredible."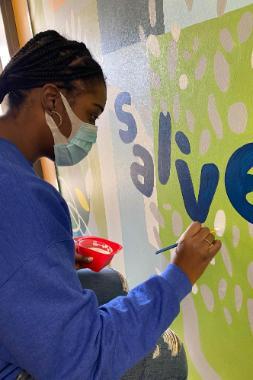 "This was a completely unexpected gift in a season when very few experiences can be physical and embodied," she said. "Every class I looked forward to getting up, moving around, and working with my classmates. The mural gave us a time to connect and create community all while serving fellow classmates and professors."
The project also brought together two different departments through language, Akines said. "We created a mural that represented and celebrate the linguistic diversity of our college community," she said.
Patton said the students made the project remarkable.
"The experience I had this past semester with the students is going to be unforgettable," Patton said. "The students stuck in there and worked hard. They were just a fantastic group of committed students."—Emily Bratcher