Wheaton College welcomes Jamie Lynn Goodwin, who is serving the College as an Assistant Professor of Humanitarian and Disaster Leadership.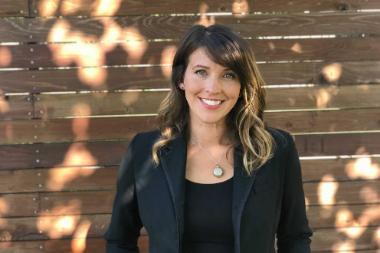 Name: Jamie Lynn Goodwin
Education:
Indiana University, Ph.D., Philanthropic Studies, expected in May of 2021
Indiana University, Master of Arts, Philanthropic Studies, 2012
University of Seville, Graduate Teaching Fellowship, 2010-2011
Franklin College, Bachelor of Arts, Journalism, Spanish, and Education, 2001
1. What was your favorite class in college? Why?
I took a Philosophy and Ethics of Philanthropy course during my master's program. I loved our teacher, Richard Gunderman. He is both a philosophy professor and a radiologist. He taught the course using an adapted Socratic method, which trained us to discuss abstract concepts logically. It was unnerving at first but then we took to the style and substance of the discussion.
2. Before Wheaton, what were you doing?
Researching and studying at the Lilly Family School of Philanthropy at Indiana University.
3. What big question are you trying to answer through your work?
I would like to understand how and why people are generous with one another and compare that phenomenon across cultures.
4. What has kept you busy during the pandemic?
Applying for this job! Also caring for my son (9) and our foster babies (9 months and 3).
Then we bought a dog and named him Oliver Legolas Chewbacca Goodwin.
5. Do you get butterflies the night before the first day of school?
Yes! 100% every year.
6. What would you have liked to tell the freshman version of yourself about going to college?
I would say the habits you form are what will shape you the most in this time--internal things like your communion with God, physical health and what I call, "preaching to yourself," how you are able to tell yourself what is true, even when your emotions don't align. Also outward things like learning to understand and converse with complex readings, and being a friend who listens before forming a response. I could have told myself to relax and have fun, but I did not need much help with that!
9. When you're not teaching or researching, what do you like to do?
Go on dates with my husband and make each other laugh, travel, play music as a family, play football with our neighbors, read something besides social science for a change.