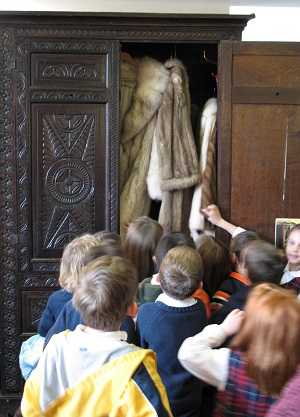 General Information
There is no fee to visit the Wade Center. Information about Directions and Parking is available. To make reservations please call 630.752.5908 or email us.
Individuals, Families, and Small Groups
Individuals, families, and small groups visiting the Wade Center on an informal basis are welcome without an advance appointment. (However, in such instances, the availability of staff to give tours of the Center cannot be guaranteed.)
10+ People & School Groups
For groups of ten or more people, including school groups, the Wade Center does offer various programs. See our Presentations for Groups page for more details. Please schedule at least 3 weeks in advance of your visit. Groups of 20 or more should let the Wade Center know in advance of your arrival, even if you are not requesting a tour or programming.

Teachers should be aware that the Wade Center has a small sales area that contains such items as postcards, bookmarks, and note cards, ranging in price from $.80-$1.35, as well as books, posters, and other more expensive merchandise. Past experience has shown that students are disappointed when they see the postcards, but do not have money to purchase them. If school policy permits bringing money on field trips, you may wish to inform the children in advance. Please note that the Wade Center is not asking you to encourage the children to purchase postcards, nor do we mention the materials for sale in our presentation.
Groups, whose schedule permits, may also wish to visit the Perry Mastodon exhibit. This display can be viewed in the Science Center atrium (and thus requires no reservations).