The Lewis Family Wardrobe
One special piece of furniture in the Wade Center's museum that many visitors come to see is The Lewis Family Wardrobe. The wardrobe was handmade by Richard Lewis, C.S. Lewis's paternal grandfather, sometime in the 1800s. This wardrobe stood for many years in the Lewis family home of Little Lea in Belfast, in the north of Ireland. It was later transported to C.S. Lewis's adult home 'The Kilns' in England. We know from one of Lewis's cousins, Claire Lewis Clapperton, that as children the Lewis brothers and various cousins would often play in the wardrobe, climbing into it where they would sit quietly while C.S. Lewis would tell them his "tales of adventure" (quotation from unpublished letter from Claire Clapperton to Clyde S. Kilby, August 20, 1979). Along with Lewis's writing desk, chair, and dining table, the wardrobe was purchased at auction in Banbury, England, on October 30, 1973.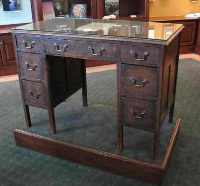 The Desk of J.R.R. Tolkien
J.R.R. Tolkien's desk was purchased for him as his first desk by his wife Edith in 1927, and he used it primarily for literary work until Edith's death in 1971. The Hobbit (published in 1937) was entirely written, typed, and illustrated on the desk. Large portions of The Lord of the Rings (published in 1954-1955) manuscript drafts were written and revised on the desk as well. Tolkien sold the desk in 1972 in memory of his wife with the proceeds going to the "Help the Aged Housing Association," a national organization based in Oxford. The desk was then sold to a private collector, and again went up for sale in 1987, when it was purchased by the Wade Center.
Desk and Chair of C.S. Lewis
C.S. Lewis's desk and chair were used in his rooms at Magdalen College, Oxford University, where he taught English language and literature from 1925 to 1954. The desk was later used at Lewis's home near Oxford, England. Its first owner was the Irish grandmother of Lady Maureen Dunbar, the sister of Paddy Moore who lived, along with her mother Janie, in The Kilns with Lewis after Paddy's death in World War I. The desk and chair were acquired by the Wade Center at auction along with the Lewis Family Wardrobe in 1973.
A bust of C.S. Lewis by sculptor Lawrence Reid Bechtel now sits on top of the desk, and a painting of the lion "Aslan" from Lewis's The Chronicles of Narnia by artist Robert Cording can be seen in the background.