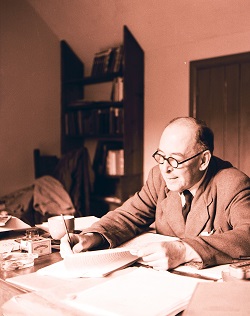 The Marion E. Wade Center is pleased to offer photographic images from its archival collections for academic and commercial use. It is NOT necessary to request approval for educational uses as stipulated by fair use guidelines (provided that the Wade Center is appropriately credited as the source of the image).
The Wade Center does not sell prints for personal use, however, postcards related to our seven authors are available for sale in our sales area.
Procedure for Processing Orders:
Selection of photos and description of intended use by requester with Wade staff assistance.
Completion of request form by requester with publisher information and usage stipulations.
Wade staff creates contractual loan agreement and invoice for review by requester.
Submission by requester of signed loan agreement and payment to the Wade Center.
Release of photos from the Wade Center to requester via email or online download.
Note: When the Wade Center has further information about the rights associated with an image, it will convey that information to requesters. However, in all cases, it is the requester's obligation to determine and satisfy copyright or other use restrictions when publishing or otherwise distributing materials from the Wade Center's collections.
The following fees are for one-time, non-exclusive rights to use the image for the specified purpose. Subsequent editions, reproductions, formats, or any kind of additional usage of the image by the undersigned or a third party requires additional written permission. The Wade Center does not surrender its right to reproduce the images or to grant permission to other users. The fees also assume fulfillment of the rest of the contract (see stipulations below). The Wade Center reserves the right to adjust prices without notice. Unless otherwise noted, these costs cover permission for one use.
*Note: International wire transfers will incur an additional $25 processing fee to cover any automatic fees from international money transfers and banks.
Type of Loan Request
Academic / Non-Profit Fee
per image
Commercial Fee
per image
Websites, Apps,
Social Media
with web-appropriate resolution

$75 (up to 1 year)
$150 (over 1 year)

$150 (up to 1 year)
$250 (over 1 year)

Book
both print and ebooks

$100 (interior use)
$175 (cover use)

$200 (interior use)
$275 (cover use)

Newspaper, Brochure,
Pamphlet
Magazine, Journal

$75 (interior use)
$100 (cover use)

$150 (interior use)
$200 (cover use)

Advertising, Publicity,
Promotional Materials
1 year or less for:
Print
Social Media / web
Video / web
Video / non-web

$60 for first format
$35 for each additional format

$100 for first format
$50 for each additional format

Film / Video
TV
DVD
Cinema
Web
Exhibition / Display

$35 (up to 1 week)
$150 (up to 1 year)
Permanent: Talk to Wade

$60 (up to 1 week)
$250 (up to 1 year)
Permanent: Talk to Wade

Research, Lecture,
Presentation
$35 if Wade provides the scan;
up to 2 years use with limited,
monitored distribution.
See also: Fair Use Policy
N/A
While the Wade Center wishes to be supportive of non-profit organizations and ministries, we are generally not able to make exceptions on our listed fees. The Wade Center is a non-profit institution, and thus must recover the cost and time invested in photo loans. Any discounts must be agreed to in advance and documented in writing from the Wade Center to be valid. The Wade Center makes decisions for these arrangements on a case by case basis and reserves the right to refuse an exception. Consideration of these exceptions may delay processing of your order.
All photographic prints continue to be the property of the Marion E. Wade Center. No digital images or other reproductions of any kind may be retained in files or databases of the requester but must be deleted at the completion of the project.
For all uses, the photo credit shall read: "Used by permission of the Marion E. Wade Center, Wheaton College, Wheaton, IL."
Two copies (or as specified by the loan agreement) of the work are to be deposited in the Marion E. Wade Center upon publication.
No images loaned may be used for publicity purposes (i.e. brochures, advertisements), or posted on the internet without express written permission from the Wade Center and payment of applicable fees.