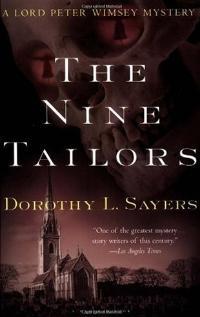 Reading Sayers: Where to Begin
A selection of titles by Dorothy L. Sayers for readers looking for a place to start:

Gaudy Night: Book eleven of twelve detective novels featuring Sayers's famous detective, Lord Peter Wimsey (refer to the chronological listing for more details). Harriet Vane returns to her Oxford college to help solve a series of unpleasant incidents.
Letters to a Diminished Church: A series of religious essays on a variety of topics relating to theology and the Christian life.
The Man Born to be King: A twelve-play cycle based on the life of Christ. These religious dramas were originally broadcast as radio plays on the BBC and are now available in book form.
The Mind of the Maker: Sayers's theological work studying the creative process of humans in the arts and how it corresponds to the dynamic relationship of the Holy Trinity.
The Nine Tailors: Book nine of twelve detective novels featuring Sayers's famous detective, Lord Peter Wimsey (refer to the chronological listing for more details). Set in the English Fen country of East Anglia, this is thought by many to be Sayers's finest detective story. It sets Lord Peter Wimsey amongst country churches and the intriguing tradition of change-ringing. Sayers grew up in this locale, when her father became rector of a Fens church.
Dorothy L. Sayers Resources
Brabazon, James. Dorothy L.: A Biography. New York: Charles Scribner's Sons, 1981.
Clarke, Stephan P. The Lord Peter Wimsey Companion. Hurstpierpoint, West Sussex: Dorothy L. Sayers Society, 2002.
Reynolds, Barbara. Dorothy L. Sayers: Her Life and Soul. New York: St. Martins Press, 1993.
[Note that for many of the Wade authors there are numerous smaller collections which hold primary materials in addition to those listed above. For more information, contact the Wade Center archival staff.]
Film footage of Canterbury Festival Plays and Dorothy L. Sayers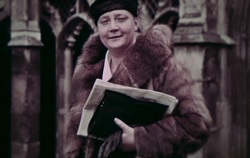 Enjoy viewing rare 1930s footage from three Canterbury Festival play productions by Charles Williams and Dorothy L. Sayers, and footage of Sayers herself, in these silent film excerpts by amateur British filmmaker Sydney Bligh, discovered in 2011.
Film footage by Sydney Bligh, shared by kind permission of Helen Jarrett and The Canterbury Amateur Film Archive at Canterbury Christ Church University.
Footage in this clip is from the productions of Cranmer of Canterbury by Charles Williams (1936), The Zeal of Thy House (1937), and The Devil to Pay (1939) by Dorothy L. Sayers. These were performed during the Canterbury Festival, and the film footage is on the grounds of Canterbury Cathedral. Sayers herself appears briefly as well. More information on the plays and these films may be found in the short film Seeking Sydney about the life and work of Sydney Bligh.
WATCH THE CANTERBURY PLAYS CLIP
This clip shows Dorothy L. Sayers in attendance at the "Dedication of Benefactors' Windows" event at King's School in Canterbury on June 17, 1939.
WATCH THE KING'S SCHOOL EVENT CLIP