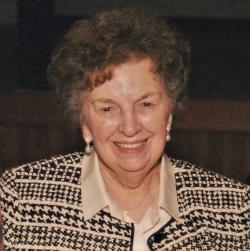 Mary L. Wade was born April 30, 1923, in Chicago to Marion and Lillian Wade. Her brother James Wade was born five years later in 1928. Mary delighted in her family including her three daughters (Sallie, Betty, and Susan) and one son (Jack) as well as her eight grandchildren and 17 great-grandchildren. She died peacefully and unexpectedly on December 27, 2020, at age 97.
Mary worked for a number of years with her father Marion Wade at ServiceMaster, the company he founded in 1947. She was also a talented interior designer and used those skills to create beautiful spaces for many ministries, including the Wade Center.
First and foremost, however, Mary was a person of deep faith who was always ready to help those in need. A caring friend to countless individuals, she unfailingly brought meals, provided rides, visited those who were ill, and abundantly shared her delicious cookies.
A member of the Wade Board for many years, Mary was also the primary donor for the Wade Center building, which enabled our move in 2001 from the second floor of Buswell Library to a beautiful English Cotswold-style building dedicated solely to the work of the Wade. This generous and far-sighted gift dramatically strengthened and extended the outreach of the Wade Center.
As Wheaton College Provost Karen Lee noted with gratitude: "Mary's vision made the Wade Center a special place for researchers, scholars, faculty, students, visitors, and tourists over the decades." Indeed, all of those who have researched or visited the Wade Center, since the time when it was first named for Marion Wade in 1973, have benefited greatly from Mary Wade's generosity as well as her desire to share the writings of our seven authors with others.