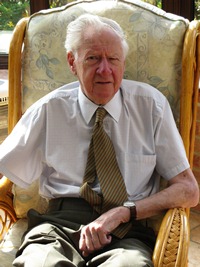 Aidan Mackey is known throughout the world not only as a foremost G.K. Chesterton scholar, but also as a kind and generous friend to all who work in this area of literary scholarship. Born and schooled in Manchester, England, Mackey was introduced to Chesterton's writings shortly before his 14th birthday by his older brother, and he never stopped reading them thereafter. He had to leave school at an early age out of his family's financial necessity; he worked at the bookshop for Burns, Oates, and Washbourne, a Roman Catholic book publisher, where he met his wife-to-be, Dorene Tranter. After both served briefly in the Air Force, they were married in 1945 at the end of the European conflict. Upon discharge from the service, Aidan trained as a teacher, eventually spending 12 years as Headmaster at St. Tarcisius School in Surrey, during which time he assisted in the development of the English Middle School system, and was sent by the Foreign Office to Gibraltar to introduce the system on the island.
Throughout this time, Aidan and Dorene were enjoying opportunities to meet with fellow readers and admirers of G.K. Chesterton, and getting to know people who had been close to Chesterton, including Dorothy Collins, Mrs. Cecil "Keith" Chesterton, and John Sullivan. Through these connections of mutual interest, particularly those overseas, Aidan began to dabble in second-hand book-dealing, assisting American or Australian collectors to find items in Britain. In the '70s, he took an early retirement from teaching, and began a second career in bookselling.
After decades as the leading book dealer and authority on books by and about G.K. Chesterton, and due to his many Chesterton associations, it was natural that Aidan would assume administration of the G.K. Chesterton Study Centre with the support of the Chesterton Estate, formalizing the study center that had already developed at his home in Bedford. The G.K.C. Study Centre, now known as the Chesterton Institute, is located in Jericho, Oxford.
The author of numerous articles and reviews, Aidan has lectured widely in Europe and North America. His publications include, among others, Collected Poetry: Part I and Part II for G.K. Chesterton: Collected Works (Ignatius Press), a story book including Chesterton drawings entitled Mr. Chesterton Comes to Tea, and a pamphlet entitled The Wisdom of G.K. Chesterton. He was also editor of a monthly journal, The Distributist, for six years in the 1950s. On September 27, 2008, Aidan Mackey received the second Clyde S. Kilby Lifetime Achievement Award presented by the Marion E. Wade Center in recognition of his significant contribution to Chesterton studies worldwide.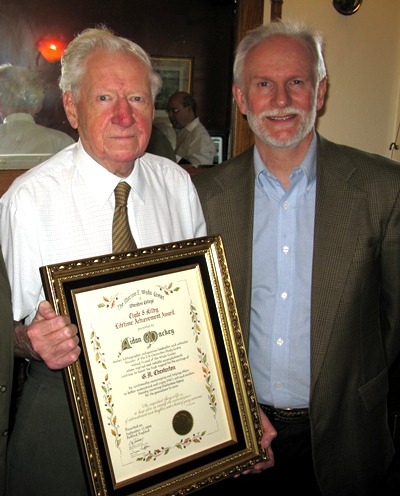 Photo above: Mackey with Wade Director, Chris Mitchell