When COVID-19 derailed many students' summer internship plans, Wheaton's Center for Vocation and Career was able to create an entire summer internship-like experience for students within just a few weeks.
When the coronavirus pandemic washed across the country this spring, one of Dee Pierce's first thoughts was wondering what would happen to students who had internships planned for the summer.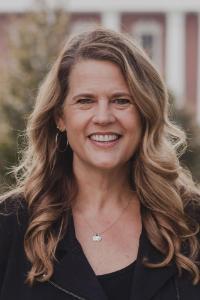 "I literally sat down with a piece a paper and said, 'What do students get out of an internship?'" said Pierce, who's been the Director of the Center for Vocation and Career for the past four years. The list she eventually came up with included things like networking, preparing for and participating in interviews, working on your resume, learning how to operate in a professional setting, and skill development. "I knew that not only did I want the students to learn a skill, but I also wanted them to be able to place the use of the skill in a professional setting," says Pierce.
So the team got to work…with a turnaround time of less than a month. In lieu of external internships, they had to plan a nine-week program, create a curriculum, and market the innovative micro-internship to Wheaton College students. Luckily, the idea was one that Pierce had already been contemplating, so she was able to pivot quickly. She reached out to Ben Nussbaum '16, who currently works at LinkedIn, to help piece together a major component of the mySkills program: LinkedIn Learning courses.
"LinkedIn Learning is trying to understand what skills the global economy will need in the next ten years then creating coursework as a result," said Nussbaum, who is a Senior Relationship Manager with LinkedIn's Learning Solutions. "Students are essentially being handed some of the most commonly cited content topics and skills that we hear from executives we work with around the world."
Next, Pierce and the CVC staff had to find alumni willing to serve as subject-matter experts for the various cohorts: social media marketing, copywriting, data analytics, Adobe Suite, and Excel.
"I think when you progress in your career, you realize how contingent you are on a person's willingness to take a chance on you or invest or to put in a good word, so I view giving back as a wonderful responsibility," said Emilee Weatherred '15, who was the alumni expert for the data analytics group (she's also a former employee of the CVC).
Nussbaum and the alumni worked together to pinpoint LinkedIn Learning courses that were appropriate for each cohort.
"I definitely found LinkedIn Learning to be beneficial," said Eli Ouoba, a sophomore at Wheaton and participant in the copywriting cohort. "I learned how to be meaningful, concise, and organized in email writing, and the LinkedIn learning definitely helped me adjust my writing style to the audience I'm trying to write for and the purpose. Ouoba was one of the roughly 75 students who participated in the mySkills program this summer.
Connecting with alumni also served as a networking opportunity for the students, giving them the opportunity to practice their elevator pitches.
Ouoba admits that one of the most challenging aspects of his experience was reaching out to people to expand his professional network, but it was also the area that he saw the most improvement. "I have gotten a lot more comfortable putting myself out there in search of opportunity," he said. "Being able to articulate a story, your own experiences, and sell yourself—mySkills had me practice that."
"These students really are going to have more opportunities based on the amount of people they're willing to engage with. Just seeing how many students were curious and willing to put themselves out there and do something totally different, it was really encouraging, and I felt it was important for me to be willing to meet that need," said Weatherred.
Finally, the alumni provided critical feedback on the students' projects before they were presented to their client: Wheaton's Admissions, the Marketing Communications Department, and Wheaton's academic deans.
"The LinkedIn Learning provided the teaching, but the application occurs in the project," said Forrest Clements, a career coach at the Center for Vocation and Career.
Groups worked with the admissions department to write student profiles; prepare a presentation based off data collected about the 2020 graduating class; create a survey and then analyze the findings to share with the BRIDGE Program; and presented a design for a campaign to Marketing Communications to encourage Wheaton to be Thunder Strong while staying safe from COVID-19.
The results of the BRIDGE program survey revealed some surprising data that the program plans to keep in mind when working with BRIDGE students in the future.
Pierce plans to continue the program next summer, and she already has plans to expand. She hopes to one day partner with local nonprofits and start-up businesses for the students to work with.
"As Wheaton College seeks to support students of all kinds of backgrounds, I think the Center for Vocation and Career is such an essential linchpin to helping students succeed after college," says Weatherred. -- Alexandra Shimalla
Did You Know?
99% of the class landed (employed, interning, furthering their education, or pursuing other adventures of their choice) within six months of graduation, compared to the national average of 86% in 2018 (NACE).