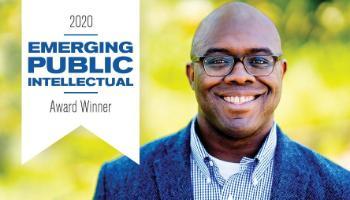 Rev. Dr. Esau McCaulley is the winner of the 2020 Emerging Public Intellectual Award. The award, hosted by Redeemer University and sponsored by Acton Institute, Cardus, the Center for Public Justice, the Council for Christian Colleges and Universities (CCCU) and Henry Institute, is intended to recognize and foster emerging talent, those working in the Christian academy who excel in both academic and public spheres and whose work impacts the common good.
The Award Committee recognizes Dr. McCaulley as an outstanding recipient, whose work and witness exemplifies the virtues of a Christian scholar at the service of the public, and of the church.
"I am honored that people have found my public witness encouraging. This is definitely an unexpected award during a strange and challenging time in the life of the church and the world. I am simply happy to be able to think publicly about what it means to be a Christian in this moment," says McCaulley.
McCaulley joins colleagues and fellow Wheaton College faculty Dr. Noah Toly and Dr. Matthew Milliner, who are also past recipients of the EPI Award.
Read more about the award at www.redeemer.ca.